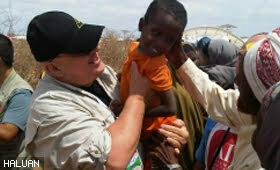 Turkish Ambassador Applauds HALUAN's Somalia Aid
Dadaab, Eastern Kenya, Sept 5 – Refugee camp Dagahlei received an important guest today in the form of the Ambassador of Turkey to Kenya, HE Tuncer Kayalar.
---
Mr Kayalar arrived at the Insani Yardim Vakfi (IHH)-managed medical compound with a small entourage of the embassy and local leaders from IHH and the community. Degahlei is among the newer camps set up by the UNHCR for refugees who have fled Somalia's war torn and famine strucked nation.
The Ambassador also visited tent number 2 that was managed by HALUAN Malaysia's Dr Baharudin Suri. In his brief visit he asked about the conditions of the patients, the numbers handled and how long HALUAN would serve alongside IHH.
Mr Kayalar thanked HALUAN in partaking treatment of the refugees and its close collaboration with IHH. He later toured the medical compound and spoke to some of the victims of the famine.
HALUAN has embarked on a nationwide fundraising campaign for Somalia, and some medicine and money have been handed over to IHH as the lead NGO. Donate generously via Bank Islam Malaysia Berhad account number 14-023-01-002571-8 (HALUAN).