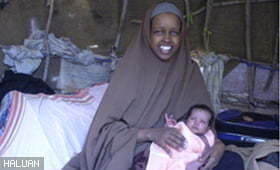 HALUAN Dots Newborn and Mother
Dadaab, East Kenya, Sept 9 – Lifeline to Somalia HALUAN team mission 1 this morning rushed to the Somalian refugee IFO 2 camp along with partners Turkish IHH (Insani Yardim Vakfi) after getting information about a single mother Khadijah Mohammed, 18, who had just delivered the previous day.
---
She speaks good English and was convalescing alone in a sad, tattered tent. It was such a heart tugging scene for all of us; oh Allah your tribulations are but trials. It is unbearable to see the hardship faced by this single mother without a husband by her side at the moment of delivery, fighting for her life as the little bundle of joy came to this world. Allah SWT Most Gracious Most Beneficent, the single mother was assisted by neighbouring ladies in the refugee camp while in labour and gets the attention of IHH of Turkey and HALUAN Malaysia.
The single mother had to live in her tiny tent for two months after travelling from the town of Humaira, Somalia to Dadaab, Kenya, a distance of hundreds of kilometres before arriving at the IFO 2 in Dadaab. In her seventh month of pregnancy, she had to endure the scorching sun for 10 days without a husband who had divorced her recently. Even more tragic is the fact that she had to leave behind her two year old son with her father in Somalia.
IHH and HALUAN joined forces to assist this young mother by constructing a new and more spacious tent for her alongside her tattered one in which baby Samirah was born. Dr. Baharudin Suri head mission Lifeline to Somalia HALUAN Malaysia team 1 made a clinical examination on her and the two-day old baby. Alhamdulillah, both were in good health. HALUAN left them with several items such as 'baby wipes', 'hands liquid steriliser', and multivitamins. Meanwhile, IHH supplied her with a new tent and food items including milk for mother and child. The cute girl was named Samirah Abdul Rahman. May Allah SWT bless them both.
Before we left, with radiance on her face, Khadijah thanked HALUAN Malaysia and IHH of Turkey for the assistance rendered. She had previously refused photography by UNHCR of her child and her, but relented with us after understanding that we are Muslim brothers from afar here to help them. With a heavy heart we stepped out of her new tent, leaving behind baby Samirah in her lap, with do'a, so that Samirah will get to see a better tomorrow as a pious child.
This true story from the fields of IFO 2 Dadaab bordering Kenya-Somalia is perhaps one of thousands others, of tribulations by mother and child in Somalia. We believe there are many more such sad stories of our Muslim brothers and sisters even more tragic in these camps in Dadaab wherein live almost a million refugees each with similar experiences to share with the world. Are you listening?
For us all, hope not that these stories are mere passings, but strong enough a compassion to assist the victims of mothers and children of Somalia. Donate generously via HALUAN at BIMB 14-023-01-002571-8.
—————–
Story by Bro. Mohd Akhir Ahmad in Dadaab, Kenya