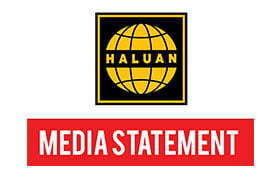 HALUAN Opposes the Declaration of Al-Quds As Capital of Israel
December 7, 2017 — HALUAN vehemently opposes the announcement made by US President Donald Trump, who declared the holy city of al-Quds as the capital of Israel.
The repeated attempts by the world powers, especially by the United States, to destroy the Palestinian territories in the interests of the Zionist regime, is totally unacceptable. It is a planned crime that violates all international laws and human norms.
This arrogant declaration shall only further fuel the struggle of liberating Palestine.
Let us all unite our solidarity in meticulous precision. Together we must work hard to build a generation capable of inheriting the capabilities of Salahuddin al-Ayyubi's generation, armed with the history of struggle and the expertise in organising strategies, based on piety to God.
HALUAN remains committed to the Palestinian struggle, as it is part of our faith.
---
HALUAN BANTAH PENGISYTIHARAN KOTA SUCI AL-QUDS SEBAGAI IBU NEGARA ISRAEL
7 Disember, 2017 — HALUAN membantah sekeras-kerasnya tindakan Presiden Amerika Syarikat, Donald Trump, yang mengisytiharkan kota suci al-Quds sebagai ibu negara Israel.
Cubaan berterusan kuasa besar dunia khususnya Amerika Syarikat untuk menodai wilayah Palestin demi kepentingan rejim Zionis adalah sama sekali tidak boleh diterima. Ia merupakan jenayah terancang yang mencabul semua undang-undang antarabangsa dan norma manusiawi.
Pengisytiharan yang angkuh lagi hina ini seharusnya menyemarakkan lagi perjuangan membebaskan bumi Palestin.
Marilah kita bersatu memperkemaskan barisan dengan perancangan yang rapi. Sama-sama kita bekerja gigih membina generasi yang mampu mewarisi kekuatan generasi Salahuddin al-Ayyubi, berbekalkan kefahaman sejarah perjuangan dan kepakaran dalam mengatur strategi, berasaskan takwa kepada Allah.
HALUAN tetap komited dengan perjuangan Palestin, kerana ianya adalah sebahagian daripada permasalahan akidah kita.
---
اعترضت جمعية HALUAN على الإعتراف ترامب القدس كعاصمة للإسراءيل
٧ ديسمبر،٢٠١٧- اعترضت جمعية  HALUAN اعتراضا حاسما على اعتراف رئيس الأميركية دونالد ترامب لإتخاذ القدس كعاصمة للدولة الإحتلال الإسرئيلية.
استمرارية المحاولة الدول العظمى على وجه الخصوص الدول المتحدة الأميركية لاغتصاب دولة الفلسطينية لمحافظة على الكيان الصهيونية لن تقبل أبدا. و نصفها كالجريمة المخططة و تنتهك كل قوانين العالمية و كل قيم الإنسانية.
هذا الإعتراف التكبري المهينة سيشعل حماسة الإنتفاضة و المقاومة لتحرير أرض فلسطين.
تدعو HALUAN جميع الأمة إلى توحيد الصفوف و تنظيم الخطة الراسخة الفاعلة. هيا نبذل كل جهدنا في إنشاء الجيل الذين سيرثون حماسة صلاح الدين الأيوبي، و نربيهم من خلال التاريخ و المغازي و نزودهم بقوة التخطيطية و الٱستراتيجية مأخوذ من منابع الإيمان بالله و خشيته.
التزمت HALUAN مستمرا مع جهاد الفلسطينية، لأنها قضيتنا و من عقيدتنا في هذا الدين.
اعترضت جمعية HALUAN على الإعتراف ترامب القدس كعاصمة للإسراءيل.
---
Dr Abdullah Sudin Ab. Rahman, President HALUAN