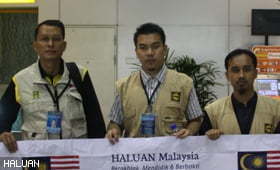 Arriving on Kenyan-Somalia Soil
NAIROBI, KENYA, 21 Oct 2012 — The HALUAN Humanitarian Mission for Somali Refugees team departed Kuala Lumpur at 2100hrs, 21st October before transiting in Doha, where it then took another flight to Nairobi. After 14 long hours, the team finally landed on Kenyan soil.
The morning breeze at the Jomo Kenyatta Airport somehow reminded us of home, but the sight of the third-world airport quickly reminded us of the mission we are to accomplish on behalf of Malaysian donors. Nairobi will be our first stop before moving on to Garissa and later Dadaab in the outbacks of the Kenya-Somalia border, where the refugee camps are situated.
Our arrival in Nairobi was greeted warmly by Sheikh Ya'kub Farah Hassan, principal of the Al-Irfan Islamic Institute in Garissa, 374 kilometres from Nairobi. A Garissa local, the Sheikh is HALUAN's representative in that country who supervises the purchase of camels and goats for slaughter come Eidul Adha. He was extremely happy to see the HALUAN team again this year and was honoured to manage the donations of generous Malaysians once again, all amounting to 699 parts of qurban, with HALUAN witnessing the process. Cooperation between HALUAN and this local Islamic institute began in 2011 where they facilitated in the qurban of 1,701 goats and 45 camels distributed to almost 700,000 refugees in the Dadaab refugee camps northeastern Kenya. Being the only Malaysian NGO in the Garissa District so far, the team's presence to channel donations by concerned Malaysian citizens is highly appreciated.
I am writing this while waiting for Dhuhr in Isli, a small sector within Nairobi which the locals dub as 'Little Mogadishu'. Most of the locals here are of Somali descent, hence the name given. We managed to catch a glimpse of a dugsi on the way here from the airport, though I had to admit that I first thought it was a run-down workshop. The dugsi, albeit its lack of aesthetics continues to have a place for Somalis to fortify their younger generation with knowledge of the al-Quran and hadeeth. This is what has kept them moving after being left by the colonialists and prolonged tribal disputes for power.
In Isli, this team was accompanied by Brother Ahmadnadhir Omar, who is Head of the Northern Kenya Empowerment Initiative (NKEI), a Kenyan NGO dedicated to the empowerment of Kenyan and Somali Muslims for better education and livelihood. Based in Garissa town about three hours from Nairobi, this aspiring young leader was involved in our negotiation for the purchase of livestock from the local herders alongside Sheikh Ya'kub. He will also be synergising with HALUAN in distributing the qurban portions for the needy in and around Dadaab and Garissa.
Our first day in Kenya ended in high spirits. We look forward to furnish you with more updates to come.
---
Report by Bro. Irwan Effendi, Nairobi Kenya.
The team is due to travel long distance to Garissa before proceeding off-road to Dadaab.


Sheikh Ya'kub (3rd from right) and his team welcomed us at the Jomo Kenyatta Airport.

Morning view in Isli, Nairobi.