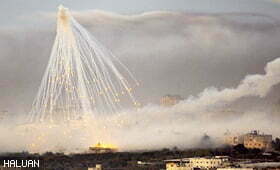 Randa Fears Not Death Due to Cancer-causing White Phosphorous Bomb
BANDAR BARU BANGI, 2 Jan 2013 — The agreement between HALUAN Malaysia, Sahabat Al-Aqsha of Indonesia and Al-Sarraa Foundation from Gaza to rally for Malaysians and Indonesians' support for the establishment of a general hospital in Gaza was gratefully welcomed by HALUAN activists who set their foot in Gaza April last year.
The general hospital which will be developed into a cancer treatment centre personifies the first-hand experience of the HALUAN and Sahabat Al-Aqsha activists in witnessing the dire need of patients in Gaza who were deprived of proper treatment due to the Zionist's illegal embargo as well as financial hardship they faced.
The experience of a mother named Randa is but one of the long list of devastation and suffering helplessly endured by thousands of children, women and other victims of war in Gaza. The much awaited hospital will mean the world for her and thousands of other patients there. Follow the story of phosphorusbomb-victim Randa, as told by a Sahabat Al-Aqsha (SA) activist.
…
Randa sat calmly at a corner of a friend's house in Gaza that night, her arms akimbo. Her beauty emanated from the black jilbab she donned. We saw an ocean of patience in her eyes. Those were the eyes of a woman fighting against the tremendous pain of breast cancer.
The chest of the 39 year-old woman was covered by her long jilbab. Four operations and 20 chemotherapy sessions have practically taken her breasts away. In the fourth operation, the wounds on her breasts had to be covered by skin grafted from her thighs.
In the interview with the SA activist that night, the young mother of five was making preparations to head out of Gaza. Her chest seemed to have swollen and began excreting fluids from the spot of the previous operation procedure.
"Where will you go and have your breasts examined, Randa?"
"Tel Aviv. At the cancer-specialist hospital," she answered slowly in sheer calmness.
Why Tel Aviv? That is the capital of Israel, the illegal occupier of Palestine for 64 years who have murdered and imprisoned the innocent Palestinians in the West Bank, the heartless thug who bombed, fired rockets and exploded bodies of babies, children and even helpless senior citizens of Gaza!
Isn't it on the eve of 2009 when the Zionists in Tel Aviv, with their sophisticated weaponries obtained from the USA scarred the skies of Gaza with the white phosphorus bomb which is banned by all international conventions, killing and burning to death countless of people there?
During the 22 days and nights of the Furqan War, the dirt and air of Gaza was filled with poisonous white particles that slashed the lives of innocent babies in their mothers' wombs, deformed children and caused cancer and other horrific degenerative diseases to previously normal and healthy people like Randa.
"True. In fact, I was diagnosed with cancer four months after the bombing. The doctor said my cancer was caused by the chemical poisons from the white phosphorus bomb," said Randa, exhaling.
"So why Tel Aviv?"
"Because there is no medical facility for me in Gaza after the Zionists kept us under siege for the past five years. You saw it yourself. Gaza is suffering from a crisis of electricity and medical supplies," she answered. "There is no hospital in Gaza that can treat my illness. Only in Tel Aviv."
"But why not in Cairo? Even if it is troublesome for you to cross the Rafah border (which connects Gaza and Egypt), at least you don't have to be treated at the very place that caused you and many others in Gaza this misery!"
"You are right. But Cairo is too far. It will take six hours of travel from Rafah. I still have small children with me. To seek treatment in Cairo is impossible for me," said the mother of Sarah (14 years old), Usamah (13 years old), Aya (11 years old), Bilal (7 years old) and Maryam (5 years old).
Humiliated
Not only that. Tel Aviv might be closer to Gaza, but the painstaking security checks by the Zionist army that had to be endured by Randa and her female companion have never been a breeze. Once, the cowardly soldiers at one of the security posts forced her to descend her vehicle for close examination.
It's a fact that every Israeli Zionist fears the residents of Gaza – from the babies to the grannies – and suspects everyone from Gaza of smuggling weapons.
"I told him I am ill. I am going to Tel Aviv to seek medication," said Randa coolly. "But they didn't believe me. I said, I have cancer! They still didn't believe me and forced me to leave the vehicle. Then I was taken to a place and told to take off my clothes. They only stopped when one of them saw the scars of the wounds on my breasts. Only then =he said, "I'm sorry."
Patience
Randa was emotionless when describing the humiliation meted by the Zionist army on her; not a drop of tear fell. Her voice was still and unshaken. "Alhamdulillah, this is all goodness in disguise," she said. "Every test from Allah comes with a lesson to learn. Insha-Allah this will strengthen my faith and encourage me to raise and educate my children to become the best of people." Randa and her husband, Abu Usamah are two of the many other cool-headed individuals met by SA activists in Gaza. Randa was born in Egypt in 1973 before she moved with her parents to Saudi Arabia. She studied and stayed there for 20 years and learned French fluently. Her family came back for Palestine in 1995 and a year later she married Abu Usamah who works as a police officer in Gaza.
The couple rents a small apartment for US$350 a month. Before falling ill, Randa helped to foot the bills operating a hair salon By God's will, in 2008 before the Zionists' attack on Gaza, she attended a female health seminar and learned how to examine her breasts personally.
In November 2009, only a few months after the white phosphorus bomb attack, Randa felt something unusual on her left breast. She found a bulging lump and something resembling a fluid gland there. Abu Usamah took her to the hospital for a lab screening. They had to borrow money to pay for the cost.
The Return
The result? Cancer. Randa had to undergo mastectomy – complete removal of her breasts followed by chemotherapy. Patiently, Randa faced the painful process. Her faith tells her that Allah is planning something good for her. There will be light at the end of the tunnel. "I pray that Allah will substitute my pain with bountiful rewards and good tidings for us in the hereafter," she uttered slowly.
Not long after the operation, Randa started working again, this time with more dedication as she was determined to settle off all her debts. However, only two and-a-half months after the operation, the lump re-emerged.
Doctors were stunned. A second operation was scheduled and cost the same as the first operation, which was around US$900. "The pain from the first operation was still there yet I had to enter the operation theatre again," she lamented.
Doctors confirmed that Randa had to undergo chemotherapy again. The problem is, such a treatment facility is not available in embargo-ridden Gaza. Before treatment even commenced, it was fated that the lump which was actually cancer emerged from the same spot with the second operation.
"Doctors in Gaza told me that it was impossible for me to be treated here. No hospital in Gaza is equipped and capable for complete treatment. My only hope was Tel Aviv. Like it or not, I had to go there. I had to repeat the whole process from the beginning – from the examination stage until the next operation."
Randa went there with one of her female relatives as her husband, a Palestinian police officer, will never be allowed to enter the occupied Palestine land under Israeli administration. "Doctors in Tel Aviv decided that I must undergo 20 chemotherapy sessions. They were excruciatingly painful. I lost my hair, even my eyebrows."
Three months after the chemotherapy, the lump shrunk and the third operation was conducted. But by Allah's will, the swelling returned three months later.
"Subhanallah, Alhamdulillah, all praises to Allah who wills all this. May Allah accept this as a way to increase our deeds," said Randa. The doctors decided to conduct another operation – to such an extent that she not only lost her breasts but the skin to cover the cut from the operation. So they took fragments of the skin from her thighs to cover her breasts. All the pain was endured patiently, including when the doctors added six more chemotherapy sessions after the fourth operation.
On April 29, 2012 when SA activists were still in Gaza, Randa had to return to Tel Aviv for another lab test and screening.
The cancer has returned.
"May Allah forgive us," said Randa.
When this report was written, in May 2012, Randa was in a hospital in Tel Aviv, undergoing her fifth operation!
Debts In Hand
While undergoing treatment in May 2010, Randa's husband decided to buy a small flat on the eighth floor of a building in Gaza so that they will be eased from paying the rent every month. The money? He made a murabahah loan from the Palestine Islamic Bank where half of his monthly earnings went towards settling the price of the flat in installments. The flat will be rightly his come 2017.
"It's definitely not easy to raise five kids with half of your salary, doubled with the expensive cost of my treatment," uttered Randa. After two and-a- half years of treatment, Randa had taken 43 trips from Gaza to Tel Aviv, and each trip costs her at least US$350.
"Our debts have reached more than US$10,000 and the people who lent us money are starting to lose patience," she said.
Would Randa just leave Gaza and forget all this hardship behind? With a surprised expression, Randa shook her head profusely. "No! This is our land. This is our home. This is a land blessed by Allah."
Randa and her husband are planning to sell their house off to get some money for their visit to holy Mecca. "We wish to worship there. We want to drink the zamzam, and inshaAllah I will be healed as the Prophet pbuh said, the zamzam will benefit according to the drinker's intention".
"I don't fear death as I believe that being with Allah is an everlasting goodness," stressed Randa. "My only hope is that before I die, my husband and I will be able to perform hajj and be freed from the debts that will become a hurdle to our steps to Jannah".
…
The experience of Randa should echo to the deepest realms of our hearts to empathise and feel the suffering of the Palestinians under the choking Zionist embargo and ill-equipped hospitals. Randa is actually very lucky to obtain a permit to leave Gaza for medical treatment. Many others are being denied the privilege. Many even died waiting.
You can help Randa and others like her in Gaza. Contribute to the development of the general hospital by donating to "Tabung Palestin HALUAN" via Bank Islam Malaysia Berhad 14 023 01 003429 2 or Maybank Berhad 5644 – 9020 – 8528.
Unite for Palestine!
English translation by HALUAN Palestine Bureau, Malaysia
---
Beginilah cara tentera Zionis Israel menabur bom fosfor putih ke atas penduduk Gaza. (Foto: Kawther Salam)

Randa with her youngest child, Maryam (Foto: SA)

Areej, one of the children in Gaza inflicted by the white phosphorus bomb by Israel. (Foto: SA)