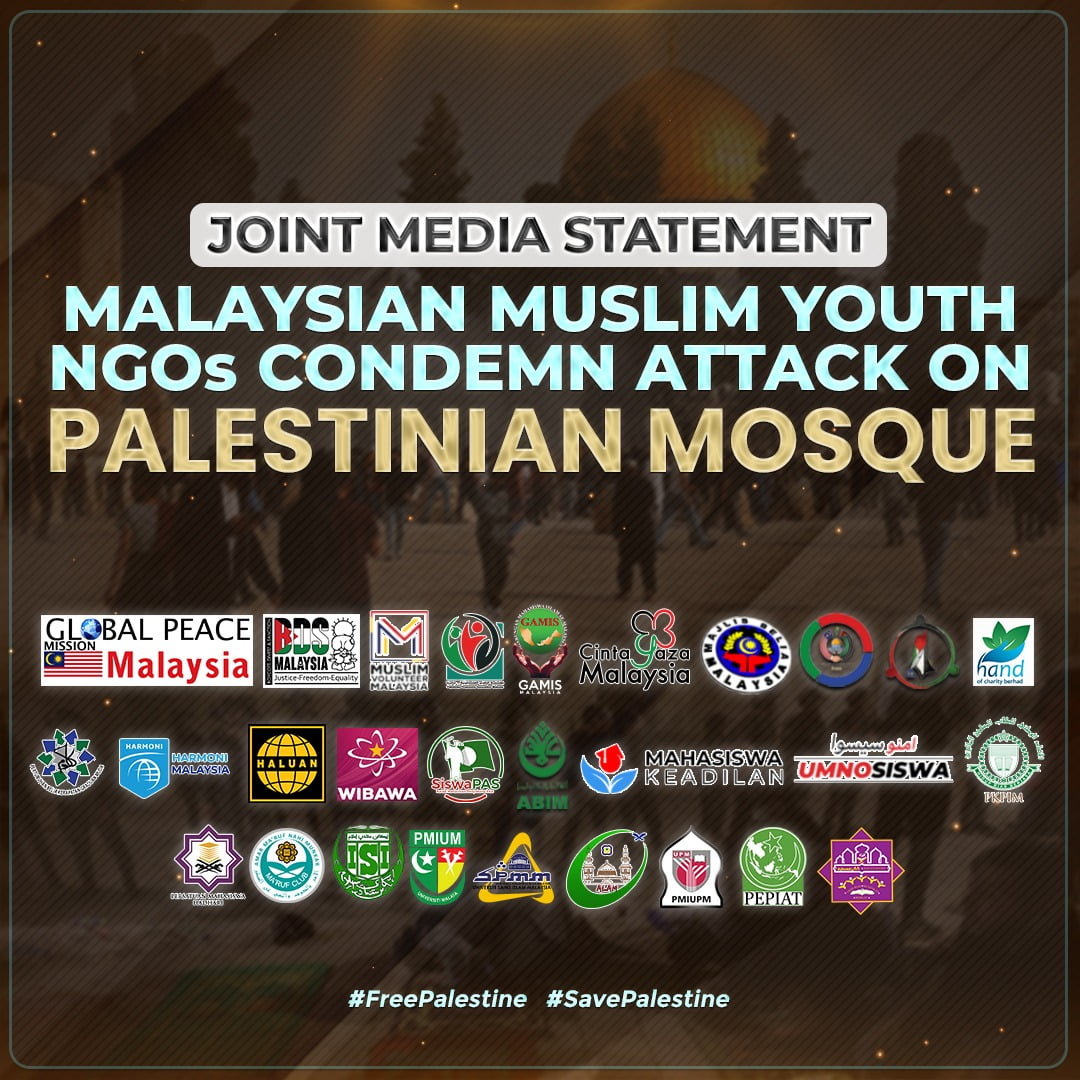 MALAYSIAN MUSLIM YOUTH NGOs CONDEMN ATTACK ON PALESTINIAN MOSQUE
JOINT MEDIA STATEMENT
MALAYSIAN MUSLIM YOUTH NGOs CONDEMN ATTACK ON PALESTINIAN MOSQUE
Dated: 12 May 2021 (30 Ramadhan 1442H)
We, the Malaysian Muslim Youth NGOs strongly condemned the act of terrorism by the Zionist regime on Palestinian mosque. The Israel forces extremely disrespectful towards the Muslim of the world by attacking Al Aqsa Mosque when the innocent Palestinian civilian were praying inside. As of the update on 11th May 2021, 30 Palestinians were killed including 10 children and one woman while 203 were wounded as a result of the ongoing Israeli airstrikes on the Gaza strip.
Last Friday on 7th May, the whole world has witnessed the brutal and bloody face of the Israeli colonization, terrorism, and gangsterism. Over 200 Palestinian wounded, 90 hospitalized after Israeli police stormed the Al-Aqsa Mosque and dispersed thousands of worshippers who packed into the mosque on the final Friday of Ramadan, as well as to protest in support of their fellow Palestinians facing forced eviction from their homes by Jewish settlers in Sheikh Jarrah neighborhood.
In continuation of the systematic ethnic cleansing of Palestine by the colonial Israel, the Israeli occupying forces have, once again, committed over the last days aggressive atrocities inside the campus of Al-Aqsa Mosque and against the defenseless worshipers. This horrible act of the Zionists clearly shows a form of insult to the Palestinians especially to the Muslim population, in this holy month of Ramadan. This act of violence is undermining all progress of peacebuilding that have been done within the region.
We strongly supported the act of retaliation by the Palestinian in response to the attack of the Israel and we pray that Israel and its subsidiary pay for the atrocities they have done since the earliest of time towards the Palestine. We condemned the official media whom acting as the Israelian puppet keeping their mouth shut when the Palestinian were abused by the Zionist regime and spreading false news towards the people of Palestine all the while pathetically highlighting the Israelis as the victim.
We asked the United Nations (UN) to finally play its role in enforcing the law towards the Israel government who consistently committing war crime towards Palestinian. We also would like to call upon the member Organization of Islamic Cooperation (OIC) to address the issue in Palestine and stand together with Palestine by using their power as the Islamic countries leader to pressure the Zionist regime to submit and deny all the dealings direct at promoting Israeli policy.
Duly, this is our call to all Muslim community for solidarity to Palestine. We should stand together as Muslim in supporting our brothers and sisters in Palestine by raising awareness of the current issue in Palestine. We pray to Allah SWT for our brothers and sisters in Palestine to remain strong facing the hardship and kept hold on their right as the people of Palestine. May we all be together in Al Aqsa soon.
Prof. Dr. Mohd Nazari Ismail,
Chairman of Palestinian Progressive Association Malaysia (PPAM)
Prof. Dr. Mohd Nazari Ismail,
Chairman of Boycott Divestment & Sanctions Malaysia (BDS)
Hasbullah Najib,
COO of Muslim Volunteer Malaysia
Nadir Al Nuri,
CEO of Cinta Gaza Malaysia
Dr. Abdullah Sudin Ab Rahman,
President of Pertubuhan Himpunan Lepasan Institusi Pendidikan Malaysia (HALUAN)
Mohammad Sbaih,
President of PSA Malaysia
Faraj Heneini,
Executive Director of Hand of Charity
Muslim Imran,
Chairman of PCOM
Muhammad Faisal Abdul Aziz,
President of ABIM
Ahmad Fahmi Mohd Samsudin,
Chief Executive Officer of Global Peace Mission (GPM) Malaysia
Ahmad Farhan Rosli,
Secretary General of South East Asia Muslim Students Federation (PEPIAT)
Ahmad Firdaus Hadzir,
Secretary General National Union of Malaysian Muslim Students (PKPIM)
Jufitri Joha,
President of Majlis Belia Malaysia (MBM)
Muhammmad Arif Hakimi Maludin,
President of Gabungan Mahasiswa Islam Se-Malaysia (GAMIS)
Hafizan Hechanova,
Director of SISWAPAS
Ahmad Al Mubarak Mohamed Kunyi,
President of UMNOSISWA
Muhammad Azrul Azham,
President of Mahasiswa Berjasa (WIBAWA)
Muhamad Hanapi Jamaludin,
President of Pertubuhan Belia Kerapatan Graduan Muda (KAGUM)
Andi Muhamad Zulzharif Muhamad,
President of Sekretariat Pendakwah Muda Malaysia USIM (SPMM)
Muhammad Waqiyuddin Najid Ab Hadi,
President of Al-Azhar Members Club (ALAM)
Muhammad Tawfiq Norzamri,
President of Persatuan Mahasiswa Hadhari UiTM Shah Alam
Syazwan Syafiq Sahafaruddin,
President of Kelab Ikatan Mahasiswa Islam UniKL BMI
Muhammad Faiz Mohamad Zawawi,
President of Persatuan Ikatan Studi Islam UKM
Badrul Amin Johari,
President of Persatuan Rakan Masjid UiTM Puncak Alam(PRM)
HARMONI Malaysia
Mahasiswa Keadilan Malaysia
Persatuan Mahasiswa Islam Universiti Malaya
Ma'ruf Club
Persatuan Mahasiswa Islam UPM