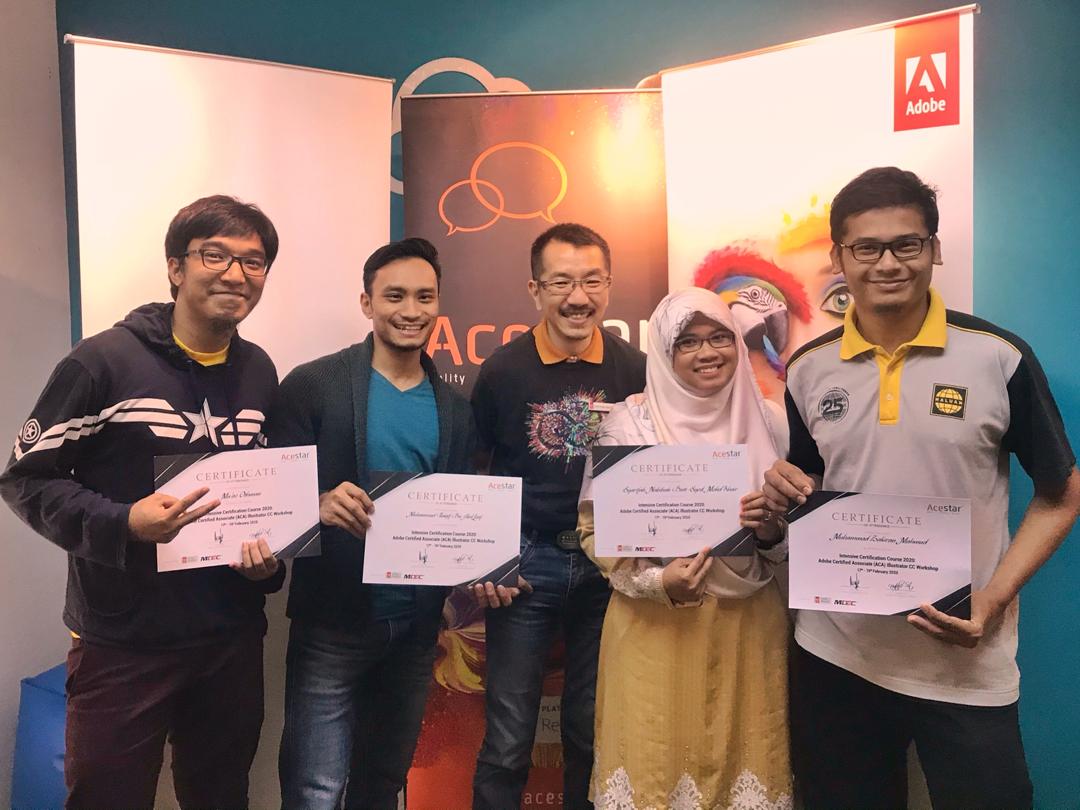 HALUAN Volunteers Attain Global Certification
KUALA LUMPUR, 20 Feb 2020 – Four individuals, including a HALUAN staff member, and three volunteers were amongst 30 successful participants of the "Intensive Certification Course 2020: Adobe Certified Associate (ACA) Illustrator CC Workshop" held from the 17th to 19th of February here.
The three-day workshop was organised by Acestar Sdn Bhd (sole platinum distributor of Adobe in Malaysia) and supported by Malaysia Digital Economy Corporation (MDEC). The four individuals who took part were the creative director of HALUAN, Mr. Muhammad Zakiran Mahmud; multimedia lecturer at Kolej Teknologi Darulnaim Kuala Lumpur (KTDKL), Mrs. Syarifah Nabihah Syed Mohd Khair; designer at PS Food and Beverage Sdn Bhd, Mr. Muhammad Thaqif Abd Latif; and operation & administration officer at Yayasan MATRI, Mr. Mu'az Othman.
The Adobe certification is an industry standard of excellence and proficiency in leading products from Adobe. Participants must undergo an Adobe Certified Associate (ACA) online exam at the end of the training, where they were given 50 minutes to complete the online exam. All four individuals from HALUAN passed the exam with flying colours, making them officially an Adobe Certified Associate in Graphic Design & Illustration Using Adobe Illustrator.
"This workshop is really an eye opener for me to use the software in more efficient ways. The trainer, Mr. Roy Seah is a very passionate person and expert user of Adobe Illustrator," said Mrs. Syarifah Nabihah.
"We've been taught by the best Adobe instructor in South East Asia on how to tackle some issues using the software by using the right method. It's also a good chance to meet with talents alike in the industry and share our knowledge and experience," said Mr. Muhammad Thaqif.
"I learned many things about Adobe Illustrator in this workshop. The trainer is also very energetic and very helpful," said Mr. Mu'az.
"We would like to express our deepest thanks to Acestar and MDEC for giving us the opportunity to be in this workshop. We were truly satisfied with this workshop because it has enhanced our knowledge," added Mr. Zakiran.
HALUAN congratulates all four individuals for their success in becoming an Adobe Certified Associate (ACA). HALUAN looks forward to working together with them as experts to bring more value and benefits for the community in many sectors.
---
Report by mediaHALUAN