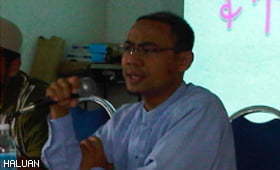 3M Mulls Rewards and the Excellent Graduate
Shah Alam, Oct 8 – It isn't always that varsity students could get together and talk about sins, rewards, heaven and aspire to excel academically all at the same time.
---
However, that objective was achieved by the Medic Minds Motivation (3M) program that was jointly organized by the HALUAN Health Club (KKH) and HALUANSiswa Medics (HS2) on 2nd October recently.
The regular program initiated by KKH diverted from the usual this time by amalgamating mindteasers with the body of knowledge of fiqh in bringing the hearts of the medical and paramedic students towards becoming holistic human beings and God-fearing at the same time.
"Fire….Fire….!'" screamed Dr Azizan Ahmad at the top of his lungs while sharing how students must be sensitive and expedient in executing propagation and systemic self-training. Spreading fire that is growing at its peak and hot must quickly be extinguished while we run away from it. Such is the heart when it is attacked by the disease of material adoration, malaise and shunning good deeds, where we must quickly revive and hasten to defeat procrastination by applying the concept of tauhid (oneness) to Allah SWT.
In his paper entitled Understanding of True Islam Generates God-fearing Students, Dr Azizan who is a senior lecturer at Universiti Kebangsaan Malaysia and a gifted motivator asked the 80-odd participants if they could earn the rewards from God throughout the duration of their studies leading to their convocation day.
"What we want should be to earn a scroll and the blessings of Allah SWT along our lives as students and the remaining years thereafter. Only then our race in the university becomes meaningful. Our true victory is when at every instance our lives we are fertilized with iman (faith) and taqwa (deep piety). This is achievement par excellence," he remarked.
He added that to achieve this, every student must admit that he or she must be trained and processed until one realizes that the final outcome of life is so far away and difficult to attain, requiring the coaching from mentors who could lead them on the right path to success. He praised the organizers of the 3M, regarding it as a means of enabling medical and paramedical students to build upon their spiritual as well as survival skills.
"Acording to Syeikh Yusuf Al-Qardhawi, Muslims of today are not weak but they lack awareness of the evils that confront them till they become confused with the world that revolves around them. Their objectives become obscured and the road towards their final destination becomes intertwined. Hence it becomes your responsibility as future graduates to give them a wake-up call – as if to run from an engulfing fire – so that they may quickly react and return to the ordained path, he added.
A second paper presented was on Medical Fiqh by Ustaz Hussein Azeemi Abdullah Tsaidi from the University of Malaya. It expounded on the "how-tos" of diagnosis, treatment and care-giving using principles heralded by Islam as a complete way of life. This led to a workshop training session on the same subject later that afternoon. The participants were very pleased with the outcome of the fiqh module.
The 3M program is being scheduled regularly several times a year by KKH with the cooperation of HS2. The turnout this time was the most encouraging thus far ever since its commencement three years ago. In her speech, 3M program director Miss Safiyah Ahmad Yusof of Universiti Sains Islam Malaysia urged participants to partake in the knowledge given during the presentations, question and answer sessions as well as the workshops. It would provide them with immense benefits one day when they enter the job market.