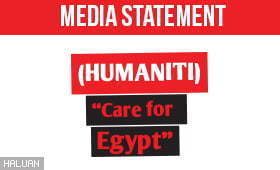 MEDIA STATEMENT: HUMANITI Condemns Death Penalty on 529 Activists
FOR IMMEDIATE RELEASE
March 26, 2014
HUMANITI – Care for Egypt strongly denounces the death sentence passed by the Egyptian military court upon 529 activists who supported the struggle for justice and humanity in the country through the principles of democracy. The action to legalise the killing of human civilisation cannot be allowed to proceed at all and is cursed upon based on the principles of Islam, humanity and democracy.
It has been proven that the principles of justice and human rights were ignored when the accused were not given sufficient defences by their lawyers to reach a fair trial. This directly contravenes Islam, but also an abuse of human civilisation. Wicked judgment, unprecedented defiance of the rules of Law, and strings of tainted threats by the authorities against defence lawyers mark the destruction of a justice system.
HUMANITI emphasises that the episodes of violence in Egypt led by its military rule through a coup d'état that wrested power from publicly-elected President Dr. Morsi has reached its pinnacle when the planned execution of her own people has now been legalised by the Egyptian legal system. This condition is precariously unacceptable. This is a very difficult situation for the people of Egypt and to those who love peace and justice all over the globe.
The cruelty meted out to the 529 Islamic activists who fought fascism according to the principles of democracy is like extinguishing the beacons of peace in the land called Egypt. HUMANITI and communities around the world see this situation as a crime against humanity and an act that ignores essential morals and civilisation. HUMANITI beckons and urges all countries and international organisations to rise and vehemently condemn these human right violations in Egypt and to take steps so that the Egyptian Military Court retracts its flawed judgment.
NGOs of HUMANITI
Organization of Graduates of Educational Institutions, Malaysia (HALUAN)
Malaysian Ulama Association (PUM)
Muslim Youth Movement of Malaysia (ABIM)
Malaysian Chinese Muslim Association (MACMA)
The Muslim Missionary Society of Selangor and Federal Territory (JAM'IYAH)
Wholesalers and Retailers Association Institute Malaysia (ROSES)
Yayasan Amal Malaysia
Muslim Care Malaysia
Life Line For Gaza Malaysia (LL4G)
The Association of Former Students on Islam of the Middle East (PBMITT)
Ihtimam Foundation Malaysia
Ibn Sina Medical Charities Malaysia (PAPISMA)
Ikatan lepasan Mahasiswa Mesir (ILMAM)
Dato 'Wan Mohamad Dato' Sheikh Abdul Aziz
Chairman
Coalition of NGOs Humaniti Malaysia (HUMANITI)
Contacts:
Sr . Mohd Sabbri Md Yudin , +6019-2716364
Mohd Ghani Salleh , +6019-9326626