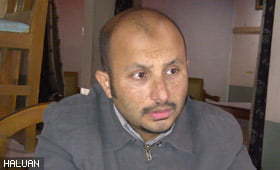 Tracing HALUAN's Post-2005 Pakistan Earthquake Mission; Part 9 – The HALUAN Track Retraced
MANSEHRA, PAKISTAN Apr 1, 2012 – Two of the three teams sent by HALUAN Malaysia's humanitarian mission during the 2005 earthquake of 7.6 Richter that hit Pakistan flew in Malaysian Air Force aircrafts. Thanks to the Malaysian Government, the teams were flown in Charlies along with cargo and officers.
They landed at the Chaklala Airbase situated not far from the commercial Benazir Bhutto International Airport, Islamabad. From there, they travelled to an army camp in Rawalpindi. According to local disaster guide during the 2005 disaster Dr Adnan Khan, team II led by cardio-thoracic and respiratory surgeon Dr Mohd Zamrin Dimon spent three days there before deciding to move out to Battagram and other areas in search of victims. The Malaysian Army Medical Corp which came complete with a mobile hospital and operation theatre had to wait for formalities before they could move further inland.
"I noticed that HALUAN was impatiently waiting for action and not wanting to lose precious time, they decided to venture away from the team which also included the Malaysian Red Crescent Society. At this juncture, I had already made contacts I in Battagram with the HALUAN recce team comprising Pakistan-trained medical officer Dr Roniyuzam Abdul Malek, medical engineer Noorazman Mohd Shamsudin and volunteer Amri Mat Zain," recalled Dr Adnan. "So I facilitated for team II to meet up team I for a couple of days before Dr Roniyuzam and friends returned home to Malaysia".
It was said that there was a total of seven NGOs that came in the air force Charlie but it wasn't known if they had gotten as far deep as HALUAN did in offering its humanitarian services. Adnan who was then working as a volunteer with Turkish NGO called the IHH was heading home to Battagram where his family lived when he noticed some Asians were trying to pitch their tents near a playground nearby his house. The winter's bitter cold was unforgiving and his curiosity took the better of him.
"They looked foreign, Asian and tired. And they also looked worried, perhaps it was close to nightfall and the night's temperature could break even a seasoned northern Pakistani like me. I asked where they are from and they told me they were Malaysians here to help the quake victims. I was immediately taken by their earnestness to help us and I said to myself I must help these strangers.
"I asked them what they were doing close to my front yard and they said they wanted to pitch a tent for the night. Later I identified the two as Amri and Noorazman. I was a little amused. First, they brought the wrong kind of tent that would not protect them even in spring time. Secondly, they were planning to pitch the tent in a ditch-like section by the main road which would not augur well in case snow or rain falls. I decided I had to help these sincere Asians. I offered them to enter my home but they politely refused saying that as humanitarian volunteers, they do not do that. So I changed strategy and offered them to pitch in my own front yard instead for free. They accepted and that's how eventually my family and I roped them in from suffering in the cold, which they were never used to," he said.
Dr Adnan who is now a postgraduate student in surgery at Universiti Kebangsaan Malaysia reminisced that only Dr Roniyuzam stood the test by staying outdoors in his tent, largely fearing aftershocks after the first quake. The house was small, enough for the little family whose three children have all grown up. Adnan's mother, Dr Rana Kousar who was equally instrumental in aiding the victims along with HALUAN, moved her frail mother to a tent at the back of their house and offered her room to the three lady doctors, Dr Wan Muhaizan Wan Mustaffa, Dr Noribah Upawi and Dr Suraiya Ibrahim. The males stayed in the living room.
Team I left for Batamori a few days later before heading home. In Battagram, Dr Zamrin and his team launched several forays for about 12 days. Adnan became their guide and took them to the mountains and valleys such as in Peshalo and Kot Gala where victims were awaiting for medical aid. It was a daily routine that the team had to endure with limited stocks of medicine that could be carried by hand, trekking on foot over long distances to reach the victims who were mostly illiterate peasants. Some were carrying Kalashnikovs and the team was careful not to ruffle anyone's feathers.
Expedition team member Dr Suraiya Ibrahim recalled how difficult the track became sometimes. Some roads were rendered inaccessible because of landslides so they had to decide whether to trek on foot or return. Some enclaves were accessible only via rickety cable cars. With medicines and equipment in hand (and some on their heads,) the HALUAN medical teams paved their way to do their little bit for the earthquake victims of Pakistan. Dr Wan Muhaizan, who is now the Chairperson of the HALUAN Health Club (KKH,) expressed her utmost gratitude to the family members of Dr Rana Kousar and husband, Mr Raja Sultan Waheedudin Turk for their incomparable hospitality towards volunteers from HALUAN. She said they had sacrificed so much and bent backwards in assisting the teams without which HALUAN would have been caught in a limbo in its endeavour to help the quake victims.
The 2005 Kashmir earthquake was a major earthquake centered in Pakistan-administered Kashmir known as Azad Kashmir, near the city of Muzaffarabad, affecting the Gilgit-Baltistan and Khyber Pakhtunkhwa province of Pakistan. It occurred at 8.52am on 8th October, 2005 at a magnitude of 7.6 making it similar in size to the 1906 San Francisco earthquake and the 1935 Quetta earthquake.
The government of Pakistan's official death toll was 75,000 but many more were unaccounted for. The earthquake also affected countries in the surrounding region where tremors were felt in Tajikistan and western China, while officials said nearly 1,400 people also died in Indian-administered Kashmir and four people in Afghanistan. The severity of the damage caused by the earthquake is attributed to severe upthrust, coupled with poor construction technology.
---
Bro. Y writes from Mansehra, Pakistan
A cemetery of victims next to a cool mountain stream

Houses like these built on rocky hillslopes and outcrops in Battagram do not stand a chance against a major earthquake

The rough terrain requires a 4WD vehicle

Fit for a calendar – northern Pakistan is a beautiful sight to behold