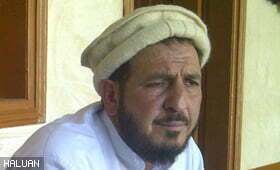 Tracing HALUAN's Post-2005 Pakistan Earthquake Mission; Part 8 – Bitter Memories over Battagram
BATTAGRAM, PAKISTAN Mar 31, 2012 – Battagram was the bastion of HALUAN Malaysia's humanitarian activities during the 2005 quake that hit Pakistan which caused some 100,000 fatalities. It was from this little town that the medical teams launched their mobile services in the high mountain slopes in near freezing weather.
Led by local scout Adnan Khan, then a final year medical student in Karachi, HALUAN scaled the slopes daily where hundreds sometimes thousands of peasants lived off the land. Most of them were farmers tilling for wheat and mustard seed while rearing sheep, goats, donkeys and buffalos. Simple folks who were mainly illiterate and couldn't understand why the zalzalah (earthquake) as they called it had to happen.
On the more remote side of Battagram is where the family of Muhammad Idris, 49, lives. He came rushing home from Saudi Arabia upon learning that his little hamlet was badly damaged. Fearing for the worst, he kept on supplicating for Allah to protect his wife and his brood of many. He arrived on the third day of the earthquake and was shocked to see the destruction along the journey from Islamabad to his hometown.
"No one was looking out for the other. Everybody was frantic for his or her own survival and that of their children. There was despair, desperation and panic. The women were crying almost constantly over dead relatives or their homes now crumbled. I was fortunate that my family members were safe although part of this house collapsed. In these parts, getting help was a big problem," he said, and this reporter couldn't agree more.
His village called Kot Gala comes separated in two parts, each sprouting from hilly outcrops. Both parts could only be reached from the main road using makeshift cable cars they designed themselves using steel cables, pulleys, rickety carriages and the engine of used trucks. The first part of the village is smaller and is perched on a hilly outcrop accessible using the first set of the cable car at a distance of about 100 metres from the main road. From there, barely six metres away is another set of cable car that connects this village to a bigger part on a hillslope by another 80 metres in distance.
A team member of HALUAN's humanitarian mission in 2005 Dr Suraiya Ibrahim, while serving this particular village, recalled that the second set of cable car snapped during the quake and fell some 150 metres deep down into a ravine where a beautiful mountain stream flows. It wasn't known if there were any passengers in it when it went down. God bless their souls if there were any. But upon seeing this present day carriage, Dr Suraiya was more confident in taking the short four minutes trip across than she did in 2005. "Back then the carriage looked like a wooden basket that would rip itself open in mid-air. It was so rickety and if not because we were doctors here to serve them, I wouldn't want to step into it. But this improved steel-caged carriage I see now is so much safer… I think," she said before stepping into it with guides and this reporter in tow.
Idris has been working in Saudi Arabia for 32 years to earn for his family in Kot Gala, Battagram. This expedition team was fortunate to have met him during his two-week's leave. He said it took him about two years to recover from the shock but it was alright because he is earning Saudi riyals to support his family.
"The same cannot be said of the poor breadwinners who were devastated by the earthquake. Some partook in the economic activities churned by the foreign NGOs who were here to help rebuild our lives. I remained here for six months after the quake to rebuild our home," he said.
Fellow victim Aihtizaz Khan saw a bane in the presence of the foreign NGOs, not due to their humanitarian support but for the vacuum they left behind. "No doubt the poor took advantage by getting jobs from these NGOs, and they were paid many times more than they ever dreamed of. And this meant that their expenses grew with this short-term affluence. And these folks were hit the hardest months later when those NGOs left Battagram," he explained. He said JICA of Japan built a hospital and reconstructed schools using special materials and went home. So did the Save the Children which helped provide clean water and bolstered education.
The womenfolk were the most affected being mostly housewives tending to the household. With no house to hold, what would become of them? Idris' wife, Asman Pari, recalled her grief at that moment. Her son was at school so she left her other children in an open cemetery near her house and went looking for him. He was alive. She said 35 villagers died, many of them her neighbours' children. With the second set of cable car ruined, the villagers hired porters to carry provisions for them via a tiny bridge deep inside the ravine and up into the hillocks where they live.
"We helped our neighbours with food for a couple of days before the NGOs arrived. We huddled in tents with our relatives. I am very scared till this day, fearing a recurrence. Even if our beds creak, this fear comes about". She helped her husband to distribute blankets, clothes, shoes and dates which were donated by kind Saudis whom he knew.
Kot Gala village was where team number two from HALUAN Malaysia served. And tracing back the memory lane was nostalgic for much of this little haven was never reconstructed. HALUAN served this area with mobile clinics on a day-trip basis with help from local host Dr Rana Kousar and his son, now Dr Adnan Khan. Other HALUAN members who served there were Dr Wan Muhaizan Wan Mustaffa, Dr Mohd Arbaai Shawal, Dr Noribah Upawi and Dr Mohd Zamrin Dimon.
---
Bro. Y writes from Battagram, Pakistan
A rounded masjid built by Idris for his village under construction next to a wheat field

Faces of innocence. The young only knows how to play

Getting ready to board the cable car

Injury sustained by villager named Zaiba 40 year-old mother

Muhammad Idris (right) with wife Asman Pari

Dr Rana Kousar

Aihtizaz Khan

Picturesque but deadly ravine

A house once stood here but tumbled into the ravine with three deaths in a family