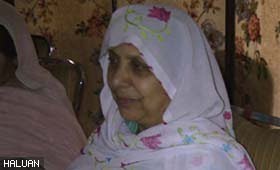 Tracing HALUAN's Post-2005 Pakistan Earthquake Mission; Part 7 – Silently Does the Al-Bukhary
BATTAGRAM, PAKISTAN Mar 30, 2012 – What do HALUAN and the Al-Bukhary Foundation of Malaysia (Al-Bukhary) have in common, you ask? Well, the latter took up where HALUAN had left off after the devastating October 8, 2005 7.6 Richter earthquake that killed almost 100,000 Pakistanis in a matter of minutes.
This expedition team was tracing back the spots where HALUAN had served the victims during the recovery phase of the earthquake and Battagram matters most as it was the centre of HALUAN's operations during the entire episode. Three medical teams were sent separately to ease the pains of the victims. The first team was headed by Pakistan graduate Dr Roniyuzam Abdul Malek, the second by Dr Mohd Zamrin Dimon, and the third by Dr Basir Towil.
And during most times, HALUAN used the home of a local doctor who was already operating a charity-like clinic for the local poor. Dr. Rana Kousar and her husband Mr Raja Sultan Waheedudin Turk welcomed the teams into their humble home to take refuge from the bitter winter and it was from here that HALUAN launched mobile clinic services higher up on the mountain slopes of cold Battagram.
Expedition team member Dr Suraiya Ibrahim felt disappointed when she saw what happened to the home that once stood there. Seven years had passed and Battagram's outskirts had now been encroached by a bustling township thriving with economic activities. Expedition guide and former HALUAN assistant during the disaster, Dr Adnan Khan the son of Dr Rana, showed what was left of his family home.
"This is where our family home used to be," arms stretched out to indicate the spot which is now a construction site for a multi-storey shopping arcade. "Our house was on lower ground than the main road, and it was at this spot where I first spotted several foreigners trying to pitch up tents for the night," he pointed to another spot several metres away.
The foreigners were HALUAN's recce team members led by Dr Roniyuzam, medical engineer Mr Mohd Noorazman Shamsuddin, and regular disaster zone scout Mr Amri Mat Zain. Adnan, who had never met Malaysians before, said he was quietly amused with the team for several reasons. Firstly, they were planning to pitch up tent in a ravine close to his house that, if a heavy downpour came, could awash man and tent. Secondly, the tents they brought were for tropical weather which would not stand a chance against the winter lashings.
Dr Suraiya couldn't believe the house that they took refuge in was now flattened to make way for an arcade. The town has definitely grown in size and uptown needed room to grow. The only physical memorabilia left was the tube well point that was left for future use. The rest of the area had been excavated and fortified for the new arcade. We were told that Dr Rana had sold the land to his son-in-law who was a businessman.
This house aside, curiosity took the better of us when we saw a majestic looking building being built, almost completed, right across the main road from Dr Rana's land from where HALUAN had once operated. Upon closer inspection, this reporter was amazed to discover that Al-Bukhary owned it. The locals claimed that the ancestors of tycoon Tan Sri Mokhtar Bukhary of Malaysia hailed from Battagram, a farming village nearby town. Today, his business empire has grown into areas such as plantation, property development, construction, engineering, power generation, infrastructure and ports and he's amongst Malaysia's top 10 richest. Hence explained the massive structure, probably the most aesthetic looking joint in the whole town. They said Al-Bukhary would turn the building into a skills development centre aimed at elevating the poor into learning useful skills such as tailoring, machine tooling, food manufacturing, culinary arts, commerce, computers, modern farming and the likes for free. How noble, if true.
How coincidental too that Al-Bukhary had decided to set up shop right across from where HALUAN could have served his relatives and hundreds of other victims of Battagram's most vicious earthquake. The way things are looking up for this bustling town with its busy and narrow streets, filled with tiny Suzuki cars and vanettes, it could all be for the better.
HALUAN has done its part then. Looks like now it's Al-Bukhary's turn.
---
Bro. Y writes from Battagram, Pakistan
A construction billboard bearing the Al-Bukhary name hidden behind a tree


The old Dr Rana's home site in the foreground