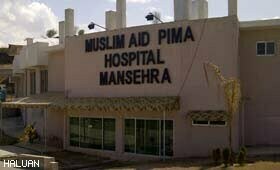 Tracing HALUAN's Post-2005 Pakistan Earthquake Mission; Part 6 – PIMA to the Forefront
MUZAFFARABAD, PAKISTAN Mar 29, 2012 – PIMA or the Pakistan Islamic Medical Association has proved its mettle in so many instances in the past especially during disasters such as earthquakes, floods and landslides.
On a more permanent basis, its foundation is grounded into charity services where the common public could go to – its more than 20 hospitals spread across the country. PIMA's benevolence is famous amongst Pakistanis who endear themselves to this organisation that is "pure, pristine and sincere" in the Islamic sense.
This expedition team was fortunate to have visited two such hospitals, the first in Muzaffarabad in Azad Kashmir. The PIMA Al-Hajri Hospital there was constructed using donations from the Kuwaiti Government post-2005 quake when it was obvious that medical attention – free at that time – was in dire need. To the Kuwaitis, the obvious choice to run such an outfit was PIMA as it had illustrious track records not only in Pakistan but abroad too.
According to its Deputy Director, Dr Mufakkir ul-Islam, the hospital was built in 2007. Right after the earthquake on October 8, 2005, PIMA established a strong foundation in Muzaffarabad by operating its services in tents for free for over two years. This commitment caught the eyes of the Kuwaitis.
"Since then, we have been serving tens of thousands of patients. We're a 50-bedded hospital and since the quake, our patients have been rising especially amongst the poor who could not afford private hospitals or long waiting times of public ones. Praise be to Allah, we have been able to offer our services to the needy by remaining very lean ourselves. We do not command fat salaries," he explained to this reporter in his modest office cum consultation room.
The hospital runs based on a 50% donation from the public while patients pay for the remaining 50%, if they could afford. Otherwise, there are treated for free. This HALUAN expedition team was taken on a tour of this simple hospital that has two operation theatres, a laboratory and wards. The pharmacy comprised cabinets packed with medicine akin to the ones found in the GP clinics in Malaysia.
"A patient may be charged a hefty Rp3,000 in the city hospital. Here at PIMA, for the same kind of services he may be billed only Rp150 or Rp200. We have 50 staff members working here for pittance but this is service in Islam. Because out there, there are people who don't have enough to eat daily and hence we have no reason to complain by what Allah has given us," he explained, causing our expedition team to choke inside in reflection of our affluence and self-indulgence back in Malaysia.
The medical care is not just that. Attached to the said hospital is a masjid whereby PIMA and her ally organisations such as the Al-Khidmat Foundation hold regular classes on Islam for visitors, caregivers and its staff members. It is also opened to walk-in patrons of the masjid which sits close to the main road.
"We conduct regular classes on Tafseer Quran of Al-Maududi. After zuhur prayers, we do classes on the hadeeths. Our aim is to provide medical attention as much as we can afford to give and also bring Islamic awareness to all those who come in touch with us," said Dr Mufakkir.
He expressed hopes that more foreign NGOs and governments would visit PIMA's hospitals such as this and continue to donate to its cause. Support for the hospital had dropped now that it has been seven years since the devastating earthquake. The hospital has an X-ray machine and an ultrasound machine used by a visiting O&G specialist. Several private doctors also gave their time in charity by working at the hospital. Although the facilities including beds and wards were very basic compared with government polyclinics in Malaysia, an aura of nobleness and humility permeates the entire hospital as we spoke to its soft spoken and polite staff members who spent time to help the needy.
"Many of our patients are poor. The better-offs often pay their dues after getting treatment. We seek donations non-stop from the public. We go to the city hospitals and clinics and request the affluent doctors there to contribute to our funds. We were equally surprised when we find city patients coming in to our hospital for treatment; as if it wasn't just the medical care that they wanted. We always ask our patients to remember Allah and to do good deeds before they leave," he smiled.
While it is the practice in Pakistan for patients to buy their own medicine based on prescriptions from doctors, PIMA tries to provide its own medicine to reduce the cost to patients. As is the case at PIMA Hospital in Mansehra District, sample drugs from drug sales representatives are dispensed to deserving patients. Medicines are generally not all that expensive in Pakistan as there are many manufacturers licensed to produce generic items. Much is exported overseas.
Dr Iftikhar Ahmad, medical officer of the Muslim Aid PIMA Hospital in Mansehra said the fairly new hospital on the outskirts of Mansehra was a boon especially for the poor, illiterate and underprivileged. "Our satisfaction in PIMA comes from these. To be able to fend for such people who would otherwise be totally ignored by the society. These are peasants and poor farmers growing wheat or mustard and rearing buffalos, cows and goats for their milk or meat. Their means of living is what they could sell. They do not have fixed salaries like you and I. "
"I too could choose to work elsewhere in a public or private hospital and make more money. But my father said to learn about humanity is to feel what it's like to be poor and hungry. For Rp8,000 a month here, it will not be enough even for a bachelor let alone a married man like me with a small child. I may move on but my father had given me the best advice thus far. I'm staying here for now," said the young doctor.
There are great lessons to be learnt here for HALUAN Health Club (KKH) members. A female O&G specialist there said her female patients have plenty of issues needing advice and medical attention. The ability to reach out to these underprivileged patients and to understand their predicaments are satisfaction par excellence.
---
Bro. Y writes from Muzaffarabad, Pakistan
A lady O&G specialist who gave up a cushy life in private to devote her time to PIMA's cause

PIMA Muzaffarabad Hospital

Expedition team Radiologist Dr Suraiya Ibrahim (centre) visits X-ray room with PIMA's Dr Iftikhar (left) and team guide Dr Adnan Khan (right)

The Muslim Aid PIMA hospital in Mansehra District

Poor patients waiting for their turn at this charity hospital

It has a mobile medical unit

Dr Mufakkir ul-Islam of PIMA Hospital, Muzaffarabad

The PIMA Hospital (left) and its masjid on the right opened to the public for prayers and classes