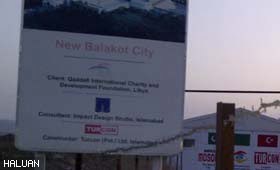 Tracing HALUAN's Post-2005 Pakistan Earthquake Mission; Part 3 – Thumb Nosing Bakrial
BALAKOT, PAKISTAN Mar 27, 2012 — Life would never be the same again for victims of the earthquake in Balakot. Reconstruction of personal abodes and shops became individual efforts while pledges and funds for the rebuilding of homes, schools and public amenities dissipated into thin air although the citizens knew the money did reach the coffers of the administration. Only thing was they couldn't pinpoint where those foreign aid ended.
Some claimed that if not for the benevolence of foreign NGOs such as from Saudi Arabia, many Balakotans would have frozen to death during winter 2005. Balakot is a town in Mansehra District in the Khyber-Pakhtunkhwa province of Pakistan. The town was destroyed during the 2005 earthquake and later rebuilt with the assistance of the Government of Pakistan and Saudi Public Assistance for Pakistan Earthquake Victims (SPAPEV), a Saudi relief organisation. Ask any Balakotans and they would say the emergency insulated housing provided by this NGO saved many lives in the bitter cold.
The town sits right smack in the fault line of earthquakes hence the Pakistani Government demarcated it as the Red Zone, meaning inhabitable. It has initiated a mass relocation programme to the so-called 'New Balakot City' closer south to Mansehra, named Bakrial but with little success.
"We used to live in proper houses with ample room for our children. But now people like me are living in 10 by 12 feet "prisons" we have to call home. With two little rooms and a kitchenette, we can hardly breathe. These prefabricated units are so small that they are not conducive to raise a family in. The people of Balakot have had to endure this for the last five years. We don't mind moving to Bakrial if conditions are better than this," said Muhamed Shaukat, 51, who has three children, two of whom are spastics.
Bakrial is a new township which the government plans to relocate the Balakotans to. Thriving Balakot since declared a red zone would no longer enjoy any federal investments so as to coerce its people to move some 20km away to a planned township. This explained the shoddy road works we saw and the unkempt garbage disposal system of this town. The authorities further decreed that no brick and mortar structures are allowed for post-quake Balakot. Only wood and zinc sheds are permitted be they for houses or businesses. A Bakrial you must go, so said the rule. But there's a catch to this – free land but its again up to the relocated household to build a home entirely at his own expense. The land is non-transferable nor saleable.
"Where do folks like us find money to built new houses over there? As it is, eking a living in Balakot is tough enough, especially those with many kids. It took us so many years of self-effort after the earthquake, with little or no assistance from the government, to begin living really modestly like now," said another resident Muhammad Arif.
His home was rudimentary with unfinished walls and a staircase sans barricades, crude flooring and a sad looking façade resembling an abandoned building. Sad too was his face when this Balakotan described to us the Catch 22 situation they were in. He said he would not budge until some assurance of financial support for basic housing in Bakrial is provided.
The HALUAN expedition team comprising Dr Suraiya Ibrahim, Dr Adnan Khan as guide and this reporter later made a late evening attempt to see what Bakrial was like. The muezzin of a nearby masjid was calling the maghrib prayer as soon as we arrived there. We drove over to an area that seemed like a "no man's land" and was surprised to see the expanse of the area.
The access road leading into Bakrial was a wide dual carriageway albeit unmetalled, possibly the widest ever in these outbacks. It went on for many kilometres but there was nothing there but empty land. No one had moved in. About the only structure that was up but not quite was a masjid funded by Libya. The construction stopped as soon as the late Gadaffi died. So sad.
We do not know if Bakrial was an original Pakistani terminology or coined from prefixes of Balakot and the Saudi currency, the Riyal. Some say it is derived from the word "bakri" which means goats. Bakrial could refer to the grazing grounds for goats. Whatever said, the proposed new township looks promising if it were to be planned by trained, honest town planners because like all major towns of outback Pakistan, the roads were all too narrow and an amazing maze of live arteries and veins only the locals know how to pump life through. You'd be amazed how cars and small vans, if likened to corpuscles, could squeeze through such narrow roads and alleys without so much of a graze and how on earth could anyone construct a shop or house perched smack on top of a cliff that falls 90 degrees down at the back door for some 100 metres below. You would not want to be inside one if another quake comes around.
Shaukat's natural smile faded when he recalled that fateful day. He runs Hotel Serenity at town centre and was asleep on the ground floor when the quake came.
"I got up and tried to run but couldn't. I immediately knew it must be an earthquake and tried my best to jump out onto the road but I can't seem to reach those several metres ahead of me. I fell flat on the floor. My hands dug into the pavement but somehow my hands were moved towards my chest. Then I was tossed up and down by about two feet high uncontrollably. It happened for about three times and it seemed the longest moments of my entire life. I had never been so helpless like that. When it was all over, there was thick dust all over. I could not see a thing," he said. Ironically, his building complex was the only one left standing after the quake was over. All others were flattened to the ground.
"And that's why I'm all for Bakrial. I can't take another earthquake. And I can no longer live in this cubicle we call home given to us by a Saudi NGO five years ago. We went through two winters living in makeshift homes and tents before these cubicles arrived. We're thankful but it should only have been a temporary measure. We were hopeful that our government would do more but that was about it, and we knew foreign funds meant for us were pouring in. They never took a second look at us after that other than reconstructing schools, repairing the roads and other public offices. We are left to fend for ourselves ever since," he exclaimed.
This reporter checked on the said homes and witnessed the sad state they were in. Sanitation and sewerage were indeed issues that could lead to other grave problems. Bakrial was an old British Army camp that was remodeled for a new township. Balakotans claimed it is not agricultural land meaning there were no rivers or streams within for farming. If they moved into it, how would these poor peasants earn a living?
HALUAN's second humanitarian team of five doctors led by Dr Mohd Zamrin Dimon served the victims in a hamlet called Hassamabad 2km north of Balakot. The third team of Dr Basir Towil and Dr Awang Iskander served the southern sector of the eye of the storm. Dr Basir even conducted several orthopaedic operations at one of the hospitals near Abbottabad.
Shaukat who once was a local leader of the Jamaat el-Islami of Pakistan said his organisation began serving the victims two days after the quake, camped near a river which was easily accessible to the victims. "We worked on a low budget but we did the utmost we could. We raised donations from all over the country and our members sacrificed their savings and time to come serve this stricken community. Imagine how much more we could have done if we had the funds that poured into the government's coffers," he added.
More stories to come as HALUAN traces the events of post-earthquake 2005.
---
Bro. Y writes from Balakot, Pakistan
Muhammad Arif


Muhamed Shaukat


Shaukat points towards ruins of Balakot with the sole house standing on the right


The blue-roofed container-like homes provided by a Saudi-based charity now in a sorry state

Balakot to be a place forgotten

Bakrial's planned township – where the New Balakot City should be


The Markazi Mosque project in Bakrial halted with Gadaffi's death

Emblem of the Saudi charity that gave free housing to Balakotans