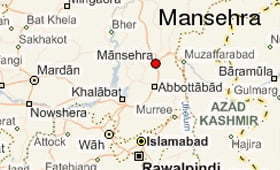 Tracing HALUAN's Post-2005 Pakistan Earthquake Mission; Part 1 – Don't Back Out on the Outback
ISLAMABAD, PAKISTAN Mar 21, 2012 — Chouwdry Arshad would have logged a long laundry list of summonses had he been a Malaysian.
He's the kind of driver that would make a Malaysian highway patrolman itch on the pedal with strobe lights and sirens blaring as he honks incessantly at the perceptively inept front driver, ignores speed limits, dives into the left emergency lane to cut away from those sluggish but colourful Pakistani trucks, drives on at top speed on the Right side of the Karakurram Highway until the oncoming truck flashes its lights at one in the morning, and takes sharp corners in the dark like he has night vision goggles glued to his eyes.
That Punjab was one helluva driver (no puns intended). He did a two and-a-half hours delivery of tired airline passengers which would normally have taken another driver an extra hour. We'd love to hate him but can't. At 3,000 Pakistani Rupees past midnight, he drives a hard bargain. And oh, yes he did stop right smack on the highway in front of some shanty tea shacks to have a quick half-minute banter with his friends right across the other side. All these while we three passengers craned our necks to make sure there are no trucks heading our way from behind.
We thought we could have some shut eye after that dozen hour flight from Kuala Lumpur International Airport, no thanks to a 4-hour compulsory transit-and-you-must-shop-here policy of Thai Airways at Suvarnabhumi Bangkok Airport. But Mr Chouwdry actually did do us a favour. We never had so much zikir done in one night as we did on our way to the town of Mansehra to the northeast of Islamabad, not that far from the epicentre of the 2005 earthquake in Muzaffarabad.
When we finally reached the home of Dr Adnan Khan, it was 2.30am with a chilling breeze blowing at about 14 degrees Celsius. Who could refuse when by 3.00am, we were served steaming hot tea, paratas, and dips to boot. The whole house was up as if a surprise welcoming party was awaiting us. Knowing HALUAN, we do not want to trouble our hosts and we felt bad about it.
"They didn't sleep at all since I called to say we landed at the (Benazir Bhutto International) airport," said Adnan, now a qualified medical officer of Pakistan. When the devastating earthquake of August 2005 hit the north-eastern region of Pakistan, Adnan was still a young lad in his final year of medical school in Karachi. Now a young intern in surgery, having two more years to go before qualifying himself as a Malaysian-trained surgeon, Adnan's homecoming was rousing to say the least especially to his aging father Mr Raja Sultan Waheedudin Turk, a retired lawyer in his 70s and his mother Dr. Rana Kousar.
HALUAN team member Dr Suraiya Ibrahim recalled how their mission was in Oct 21st, 2005. "We flew in a Charlie of the Malaysian Air Force together with cargo, soldiers and aid workers. It was an unforgettable experience. Sandwiched between the fuselage interior of the aircraft and a mountain of relief supplies harnessed close to our knees, the airmen told us to buckle up and step high up on the cargo as we took off from Subang Airbase, just in case those crates come crushing in. It was hilarious at first but turned scary as the cargo military aircraft took off. We could turn into live sardines.
"The engines were so noisy that earplugs are a must throughout the journey. As we hit higher altitude, I feared dying from frostbite as the temperature hit rock-bottom. I can appreciate economy class ever since," she told this reporter.
Her teammates were all doctors comprising cardiothoracic and respiratory surgeon Dr Mohd. Zamrin Dimon, pathologist Dr Wan Muhaizan Wan Mustaffa, general practitioner Dr Arbaai Shawal and O&G senior medical officer Dr Noribah Upawi. None ever had experience doing humanitarian work in cold weather before. This medical team had earlier been preceded by HALUAN's recce team headed by Dr Roniyuzam Malek, medical engineer Mr Mohd Noorazman Shamsuddin, and regular disaster zone scout Mr Amri Mat Zain.
More on that later as we return to present day Pakistan. Nothing much can be seen from inside the cab driven by Mr Chouwdry except dust flying everywhere as the traffic began to thin down as we hit the dark unlit highway. The air was cold as was the glass window of that beaten Toyota saloon when we palmed it. Outside, the only signs of life were the many Pakistani cargo trucks whose sequin-decorated exterior glitter and shine upon the headlights of the sparse traffic in the wee hours of the morning. Quite an indigenous way to avoid collisions at night, we mused. We thanked him profusely for his safe delivery of us to the doorsteps of Dr Adnan's house, more so to Allah the Almighty for listening to our prayers while in his car.
---
Bro. Y writes from Mansehra, Pakistan.
Colourful Mansehra at daybreak

Dr Suraiya (left), Dr Adnan Khan and the reporter having hot buffalo milk tea at one of the highway's tea stops

Coming home to an aging father