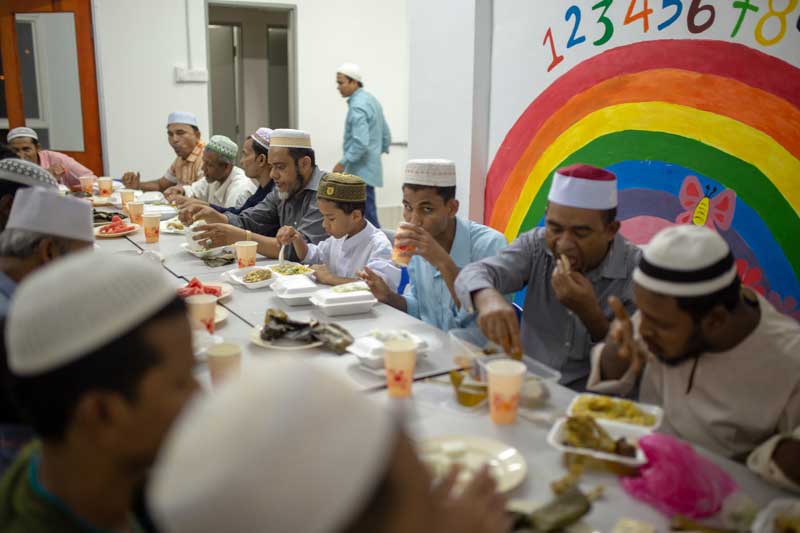 Rohingya Community in Malaysia Join Iftar
SERI KEMBANGAN, June 8, 2018 – The Rohingya community around Seri Kembangan gathered at the Rohingya Community Educare Center (RCEC) operated by HALUAN yesterday during the first ever breaking of fast ceremony. About 40 parents attended this event.
The RCEC is a community and education centre for Rohingya refugees in Malaysia, set up by HALUAN in collaboration with NAMA Foundation.
The event was graced by the Head of HALUAN Humanitarian Mission Bureau, Dr. Baharudin Suri, . In his speech he mentioned, "we hope the Rohingya community in Malaysia can work together with us to develop and provide quality education for their children, besides creating a sustainable learning culture. Today, we don't only invite parents and students. Leaders, traders and NGOs of the Rohingya community are also welcomed. Of course, the effort to develop and maintain this project requires significant funding and commitment."

According to the RCEC Manager, Encik Mohd Jamil Muda, "with the completion of the new classroom, the RCEC is able to accommodate 30 new students. New registration has been opened and learning will begin after the Eid. There will be a shuttle bus service for these displaced students. With proper education and discipline, we hope to raise from amongst these children whom we train future leaders of faith in Rakhine one day."
RCEC now has nearly 26 students with five teaching staff from HALUAN, including two from the Rohingya community. Classes run from 9:00 am to 4:00 pm, Monday to Friday.
—
Report by mediaHALUAN