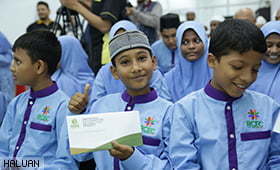 Rohingya Children Pleased Learning Quran
SERI KEMBANGAN, 3 Nov 2017 – Voices of children of Rohingya refugees can be heard every morning at 9.00 am as they recite the Quran at the Rohingya Community Educare Center (RCEC) located in Taman Prima Tropika City.
RCEC is one of the charity projects mooted by HALUAN for the Rohingya community, in collaboration with NAMA Foundation based in Jeddah.
A total of 30 children ranging from four to 15 years old attend daily classes comprising Malay language, English language, Mathematics, Burmese language, Islamic studies and Quranic studies. They are divided into two classes according to their IQ assessment.
Teachers use the Malay language as the medium of communication, hence creating a new experience and happy interaction for the students even though the environment is a bit strange to them.
Five instructors from HALUAN, including two Rohingnees, handle classes starting from 9.00 am until 4.00 pm, Monday to Friday.
Manager of RCEC, Mohd Jamil Muda, gives his full attention to ensure these Rohingya children undergo the education process smoothly without experiencing significant culture shock. "We are giving special training to instructors from HALUAN, so they will be able to master the skills needed to teach these children as they are not the same as our children. They are still experiencing the past trauma of escaping tyranny in their homeland," Jamil clarified.
"We are hoping they will at least be able to read and write as well as be fluent with the Al-Quran," he said. With the basic skills, they will be able to interact and understand the Malaysian society and culture. "InshaAllah we hope they can build a strong identity and not be easily influenced by the negative and dangerous elements."
These Rohingya children are served with breakfast and lunch to ensure they can focus on learning. In fact, all facilities and education are provided for free obtained from generous donations from the public.
According to a report by the UNHCR Education Unit, up until December 2016, approximately 61% of Rohingya refugee children in Malaysia have no access to any kind of education. Then along comes HALUAN to fill up the gap.
With that, HALUAN would like to call for more Malaysians of all faiths to join together in this effort by contributing our energy and funds to ensure the continuity of education for the children of Rohingya refugees in Malaysia.
Your earnest contributions can be made directly to the account given below:
Account name: Tabung Kebajikan dan Kemanusiaan HALUAN
No: 5622 6350 2611
Bank: Maybank
Please email the slip/receipt with the subject [Educate4Rohingya] to unit.kewangan@haluan.org.my
—
Report by Fatin Athirah Abdul Sani, Executive Secretary, Bureau of Humanitarian Mission.
Translation: Abdullah Fahmi Mohd Fuad.
RCEC is located on the fifth floor of the 3Elements Apartment building of Taman Prima Tropika, Seri Kembangan

Children learn the six main subjects in RCEC

HALUAN hopes they can at least read and write, and master the Quran

Teachers are specially trained to control these children

A total of 30 Rohingya refugee children study daily at RCEC