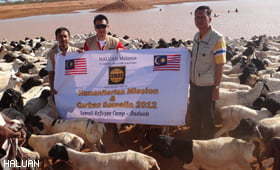 Qurban Somalia – Journey to Qurban in Dadaab
DADAAB, KENYA, 25 Oct 2012 – The HALUAN Humanitarian and Qurban Mission for Somali Refugees team left Garissa town for Dadaab at 0745hrs local time. Two armed soldiers were waiting for us as we boarded the 4×4 this morning. Accompanied by Sheikh Ya'kub Farah and brothers Farah and Idris of NKEI, it was an awkward feeling sitting next to a Kenyan soldier with an M-16 on his lap.
Mobility in Kenya, especially for foreign aid workers, is a nervy detail in the wake of recent shootings and bombings, the last victim being a staff of Insani Yardim Vakfi (IHH of Turkey) who was severely wounded. Armed escorts are now more a necessity than a choice. We bid farewell to Garissa and her friendly residents, ready to endure the bone-breaking journey for Dadaab as foretold by our seniors of previous missions here.
Dadaab is an old outback desert town close to the Somalia border which existed long before the refugee camps started to mushroom. Since the 1950s, this little town saw increments in schools, small shanty shop lots, mosques and madrasahs. Even then, the road condition from there to the nearest town, Garissa, about three hours away is by no way satisfactory.
There is no proper road to begin with. The only stretch connecting between the two towns are purely sandy tracks and bumpy rocks with puddles of water everywhere during the rainy months. Only seasoned desert drivers dare to traverse this path often kicking dust at breakneck speed to cheat would-be snipers out to make a quick robbery. Now and then, probably trying to cheer up the passengers, Sheikh Ya'kub would joke that we were on a super highway and everybody would laugh, well, except the two armed soldiers. The locals claimed that proper roads would never be built as Dadaab is predominantly Muslim, hence the discrimination by the government. Adding salt to the wound is the existence of refugee camps within it since 20 years ago.
The team arrived safely at 1030hrs local time and was welcomed warmly by more NKEI brothers stationed in Dadaab. Among them were Sheikh Ahmad Abdurrahman and Sheikh Osman who were in Malaysia last Ramadhan for the "Ramadhan with Somali Huffaz Program" organised by HALUAN. Sheikh Ahmad Abdurrahman served in Selangor while Sheikh Osman in Terengganu.
Our immediate agenda was to report our arrival in Dadaab at the Dadaab District Commissioner office. Mr. Albert Kimathi, the District Commissioner in his welcoming gesture reminded us about our safety during our stay here. He urged for us to always be escorted by armed soldiers and to report our movements to his office for security precautions.
The IFO refugee camps will be our next destination. The sacrificial qurban portions of livestocks will mostly be distributed to the refugees there.
In the evening, we were then taken by Sheikh Ya'kub and the NKEI officials to inspect the goats and camels purchased on behalf of Malaysian citizens for qurban. The shepherds and their cattle have just arrived in Dadaab today. All the goats looked healthy and fit for slaughter while some of them looked rather jovial with our presence. As if the sight of new Asian faces alleviated the strain of their long journey.
This duty that we have on our shoulders will be fulfilled with utmost responsibility. If everything goes well, inshaAllah, the slaughtering and meat distribution works will be done tomorrow, right after the Eidul Adha prayer in this remote, dusty refugee town called Dadaab. No ketupat or lemang for us this year. Just the resonance of takbir and tahmid to soothe the soul.
Eid Mubarak. Taqabbalallahu minna wa minkum. Greetings from Dadaab.
---
Report by Bro. Irwan Affendi, Dadaab refugee camp, Kenya.
Soldier in the jeep (right).

Inspecting the livestock.

Sheikh Ahmad Abdurrahman (left), imam tarawih with Bro. Hussein.