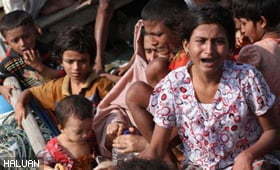 Pre-Ramadan: Muslim Rohingyas Face Death
bARAKAN, MYANMAR, 14 July 2012 – The riots and killings in the Arakan region of Myanmar since June 3 still persists. Humanitarian aid agencies warned of an impending humanitarian tragedy if the world community turns a blind eye to the discriminative Myanmar authorities that have been corralling tens of thousands of Rohingya victims from the outside world.
Humanitarian workers have classified the Rohingya community trapped in western Myanmar as living in an open air prison. Yesterday, Friday, July 13, 10 humanitarian aid workers including five UN personnel were arrested by the Myanmar authorities. This has disrupted humanitarian aid from reaching the victims even as they face an acute food crisis and deteriorating health.
The Rohingyas are facing hunger due to restrictions imposed following the race-religion riots recently. According to the representative of the NGO Action Against Hunger, Tarik Kadir, the victims now faced health problems and malnutrition. "Malnutrition has begun. We expect a steep escalation if humanitarian aids do not reach them directly without further delay. The safety of humanitarian aid workers must be guaranteed," he said. This NGO was forced to leave the northern Arakan region where some 800,000 Rohingyas faced starvation. With the lack of access to medical treatment, their conditions will worsen.
"With the imminent rainy season, and accounting for all these problems (the plight of the Rohingya community and the constraints faced by NGOs), we do not have any leeway; just wait for the impending humanitarian catastrophe," added Tarik Kadir.
Deputy Asia Director of Human Rights Watch (HRW), Elaine Pearson who recently returned home from a visit to Arakan also claimed of mass arrests by the Myanmar authorities against the Rohingya community. "Local police, soldiers and border police shoot and kill Rohingyas, while those detained are being held incommunicado," she said as quoted by The Guardian UK.
UK's The Guardian newspaper also reported that a resident of Maungdaw in northern Arakan witnessed a group of Rohingya men, including a 12 year-old child, were tortured at a police station. After undergoing interrogation related to the attacks and riots in the city, the police handed them over to Arakan youths who were at the station. "I see the young men set fire to the genitals of an old Arakan man using cigarettes and hitting the Muslim youths with iron rods, and poked their anuses with wooden poles."
Another NGO, Arakan Project, claimed that a group of monks prevented food aid from entering the city of Sittwe. Its representative, Chris Lewa said there were reports of similar incidents in other places too.
The actual statistics of human victims affected by this tragedy is difficult to be compiled because the Myanmar authorities prevent external observers from entering the northern Arakan region where the Rohingya community seek refuge. "We fear that this action is an attempt to block food from reaching the Rohingyas which would then cause a famine, and eventually causing them to migrate away," said Lewa.
Just imagine how the Rohingya community has faced the atrocities of the government since 1942. The arrival of Ramadan will be celebrated with glee by us in Malaysia, but they may not be able to think of other things other than to protect their family and faith for survival. What is certain is, as people with faith, we cannot remain silent. The least we could do is to say a prayer in all sincerity for them throughout this Ramadhan, in that may Allah forgive us for our oversight, uncaring attitude and bring peace to the Rohingya community, our bretherens in distress.
Any donations and contributions to help Rohingyas can be channelled via:
"Tabung Kebajikan dan Kemanusiaan HALUAN" at Maybank account number 5622 6350 2611.
---
Sources compiled by Nizam Awang from the Rohingya Ulema Council and The Guardian UK.
While some Rohingya refugees managed to sneak their families into neighbouring states, they are always turned away by the authorities.

Rohingya houses burnt down during the riot.

This AFP's photo shows a Rohingya village being burnt down by Arakan extremists. Many Rohingyas were killed, arrested, raped, and some were forced to leave to the Bangladesh borders.

The shelters for the Rohingya refugees are extremely poor, with no basic infrastructure or adequate sanitation. The shelters would not be able to stand the imminent monsoon rain.