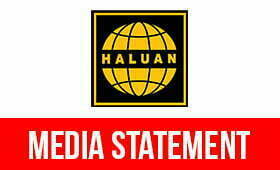 MEDIA STATEMENT: Disclaimer Over Involvement In Gerakan Harapan Baru (GHB)
For Immediate Release,
August 17, 2015
Pertubuhan Himpunan Lepasan Institusi Pendidikan Malaysia (HALUAN) as a registered NGO (PPM-001-10-26091989) was made to understand that certain parties have been linking our name, HALUAN, to the GHB, purportedly that we are in support of that movement.
Once again we would like to emphasise that HALUAN in its entirety is NOT involved with the political undercurrents either at its central level or at the states or regional levels. Our focus remains clearly established as a Non-Governmental Organisation (NGO) which remains Non-Partisan to political movements. Our focus is to concentrate on society's affairs of education, social relations, welfare and humanitarian missions.
As such, the HALUAN organisation and her members will not engage ourselves in any partisan efforts and instead will continue our focus on developing an Islamic living environment and building a harmonious society in general.
HALUAN hereby requests the cooperation of GHB and any other political parties for that matter to not use our NGO's name and our logo in their advertising and public networking. We appreciate the cooperation that will be accorded to us.
Dr. Abdullah Sudin Ab Rahman
Presiden
Pertubuhan Himpunan Lepasan Institusi Pendidikan Malaysia (HALUAN)
Contact:
Sr. Mohd Sabbri Md Yudin, the Secretary-General
+6019 271 6364
info@haluan.org.my