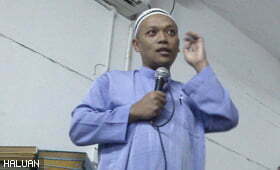 KKH's Iftar and Reminder To Orphans & Underprivileged
SHAH ALAM, August 3, 2012 – The arrival of Ramadan often cannot be appreciated by some Muslims, whereas within it are millions of grace, opportunities and blessings waiting to be tapped for the continuation of life in the months ahead.
As simple as providing some food for those who are fasting to break their fast, Allah promises countless provisions for the donor in its own quantum in ways unexpected. This natural phenomenon reminded by Prophet Muhammad SAW does not seem to stir the human soul when Ramadan beckons except for those who truly believe in this path of dakwah and strive to improve himself with every Ramadan that he meets during his lifetime.
According to the Professional Bureau Chief of HALUAN, Prof Dr Mohd Zamrin Dimon, blessings of Ramadan is clearly evident where various funds of HALUAN for sustaining projects that serve the community, including children and orphans, are more easily filled than in the other months. This indicates that Muslims in Malaysia are becoming more caring and believe in the promises of Allah; just how this generosity can be extended to the next 11 months so that they become an integral part of muslims' lives today. This would mean that the heart and soul of society should continue to be processed to be able to feel pleasure and delight in aiding those in need through their donations.
The bureau which oversees amongst others, HALUAN Health Club (KKH), has conducted a congregational iftar (breaking of fast) with orphans and underprivileged children at the HALUAN Care Complex, Bukit Naga, near here. More than 18 residents of the complex with 60 guests comprising members and activists of KKH, complex personnel and their families graced the iftar function which was followed by congregational Isha and terawih prayers. Also at the ceremony was Mr Wan Mohd Rafi Wan Hussin as Chairman of the KHP, as well as leaders of KKH chairman Dr Wan Muhaizan Wan Mustafa, Treasurer Dr Nur Azian Hasnan, Honorary Secretary Dr Ahmad Zabidin Zakaria and several other KKH Exco members.
In his sharing, Dr Zamrin mentioned a hadith Qudsi narrated by Abu Hurairah RA which mentions that the Prophet said, "Allah said, 'I follow the perceptions of my servants of me. I am with him when he remembers Me. If he remembers Me in his heart, I remember it in Myself. If he remembers Me in the middle of the throngs of people, I too will remember him in the middle of a crowd better than them. If he strives himself to me by a neck, I will be closer to him by an elbow's length. If he was closer to Me by an elbow's length, I will be closer to him by two arms' span. If he came to me walking, I will come to him in a trot."
"The trust upon us (HALUAN) is heavy because we want to beckon people to run back to Allah SWT in all consciousness and dignity while still living on earth. It is something powerful if Allah chooses to be near to us because we made the first approach to be close to Him in all aspects of life. Which means we want to invite people to learn to sincerely supplicate to Allah and to place total reliance and confidence in the path of Allah SWT as the entire universe belongs to Him alone. Our preachings should be enabled to change people's perceptions towards this real Ubudiyah (servitude), " he reminded.
Hence, he reminded the residents of KHP and parents to strive for this pivotal milestone by taking the opportunity to change their attitudes starting this Ramadan so that life will become more meaningful. Make the most of available expertise in oneself to improve skills and specialities in order to make effective dakwah (preachings) and worship that can educate, reform and devote towards society, true to the motto of HALUAN Malaysia.
---
Terawih prayer led by a former KHP resident who has finished schooling.

Prof Dr Mohd Zamrin pep talks the children and invited guests.

Attendees who came to iftar and congregational prayers at KHP.