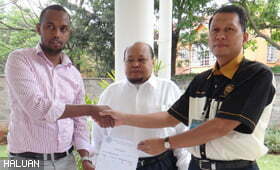 Kicking Dust for Garissa
GARISSA, KENYA, 24 Okt 2012 – Ever wondered how nasi lemak and bihun goreng taste like in Kenya? Well, our honorary visit to the Malaysian High Commissioner in Kenya, Mr. Ismail Salam gave just the answer.
The HALUAN Humanitarian Relief and Qurban for Somali Refugees team was invited to the honourable High Commissioner's official residence here in Nairobi for a cordial visit and to brief about our humanitarian projects in Kenya and Somalia. The visit could not get any better as we exchanged local delights from Malaysia, namely keropok lekor Terengganu, dodol Melaka and serunding daging flown all the way from home.
Mr. Ismail was elated to see the team and voiced his support for HALUAN's efforts and commitment in helping the Somalian refugees. Over a Malaysian breakfast and friendly chit-chat, we discussed on other possibilities where HALUAN could partake in providing its service, and to represent Malaysia in future humanitarian forays. The High Commissioner was happy to witness the official aqad or solemnisation for the purchase of livestocks between HALUAN and the Northern Kenya Empowerment Initiative (NKEI), a local NGO here. Officially, donations from concerned Malaysian citizens for the qurban 2012 have now been handed over comprising 20 camels and 559 goats.
Right after the visit, the team left for Garissa, 374 kilometers from Nairobi. The six-hour long journey in a 4×4 vehicle driven by Ahmednadhir of NKEI, whom we call the 'Kenyan Schumacher' was smoother than expected. Contrary to last year's missions, we were blessed with better road conditions, although innocent-looking crossing goats and donkeys sometimes make us wonder if they too pay for the road tax here. According to Ahmednadhir, we were lucky as the stretch from Nairobi to Garissa had just been upgraded before our arrival. The roads are widened and most were metalled, hence the smoother and less bumpy journey. We were however reminded to be mentally prepared for the Garissa-Dadaab "super highway" once we finish our business in Garissa. "Driving there needs special expertise. I will leave you with another brother for Dadaab."
The journey from the capital Nairobi to Garissa provided the opportunity to feast our eyes on the real landscape of Africa. Wild, dry bushes and distance-apart square houses built of dried mud refreshed our memory of watching National Geographics series on TV. The big difference is that we are now in the show with no other channels to flip through. Along the narrow, straight highway we witnessed the hardship of the locals trying to get through another day in life. Here, the roads are shared with streams of pedestrians walking for how many kilometers that only God knows. Not to mention the shepards with camels, goats, cows, and mules carrying water containers on their backs, occasionally causing a scare to drivers on the road.
The team arrived in Garissa just before maghrib prayer time and settled for a rest. With Ahmednadhir riding shotgun, we synergised a few details for some important meetings we have for tomorrow with the local authorities, students and staff of Al-Irfan Islamic Institute and the Supreme Council of Kenya Muslims (SUPKEM). SUPKEM is the highest authority for Muslim NGOs in Kenya. More details in our ensuing reports.
---
Report by Irwan Affendi in Garissa.
Getting ready for a Malaysian breakfast in Kenya!


The High Commissioner (center) witnessed the official aqad for the purchase of livestocks between HALUAN's Mohd Jamil (right) and NKEI's Ahmednadhir (left).

The real National Geographics! Wild, dry bushes and distance-apart square houses built of dried mud.