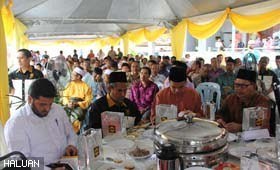 JAKIM Launches HALUAN Malaysia Headquarters
BANGI, 1 September 2012 – THE Organisation of Graduates of Educational Institutions, Malaysia or better known as HALUAN held an inauguration ceremony for its new headquarters and an open house in conjunction with the Eid al-Fitr 1433H at the forecourt of the new headquarters, located in Section 9 here.
In a prestigious and jubilant atmosphere, the event was officiated by the Director-General of the Department of Islamic Development Malaysia (JAKIM), represented by the Deputy Director (Human Development), Tn Hj Razali Shahabudin. Also present were the leadership of other non-governmental organisations (NGOs) such as IKRAM Organisation of Malaysia (IKRAM), Malaysian Muslim Solidarity (ISMA), the Malaysian Assembly of Mosque Youth (DPMM), foreign guests, media representatives, entrepreneurs, community leaders, neighbourhood communities and HALUAN representatives from across the nation.
JAKIM Deputy Director (Human Development), Tn Hj Razali giving his opening speech.
In his opening address, Tn Hj Razali acknowledged the multitude of efforts undertaken by HALUAN in dotting the community in and outside the country. Describing HALUAN as an active organisation that had always involved in community development efforts, he said the government welcomed the efforts undertaken by HALUAN Malaysia and other NGOs in implementing the Islamic way of life.
In his welcoming address, the President of HALUAN Malaysia, Dr Abdullah Sudin Abdul Rahman, welcomed the guests and thanked them for their brotherhood spirit and meaningful ties with their support and cooperation especially JAKIM.
In officiating the launch of HALUAN Malaysia's headquarters building, Tn Hj Razali consented to cut the ribbon and unveiled the office wall plaque that was pre-signed by JAKIM General Director, the Honourable Dato Hj Othman Mustapha. Shortly afterwards, Tn Hj Razali led other guests of honour on an official tour of the headquarters such as the president's office, guest lounge, operations center meeting rooms, HALUANITA operations office, conference hall and seminar room.
TV Al Hijrah also interviewed Tn Hj Razali and the President of HALUAN Malaysia along with Program Director, Tuan Hj Sr Mohd Sabbri Md Yudin for news and documentation. The guests of honour then proceeded to an Eid al-Fitr banquet, enlivened by over 700 people who were invited to enjoy the evening buffet.
"Live" performances for the evening's entertainment were staged by several nasheed groups such as Al Falah from Darul Naim College of Technology, Kelantan a foster college of HALUAN Malaysia, HALUAN Caring Complex, Ibn Khaldun Islamic Primary School, Selangor Islamic College University and others.
The jubilation and joy during the ceremony could really be felt in the hearts of the guests. Yet despite all the work, we bear that Islam is increasingly demanding the unwavering commitment from every member of HALUAN. Year by year, HALUAN will continue to be chaste, to educate and to serve.
---
Program Director

Welcoming address by the President of HALUAN

Attended guests

Souvenir of appreciation for JAKIM

Tn Hj Razali unveiling the office wall plaque which was pre-signed by Director-General of JAKIM, the Honourable Dato Haji Othman Mustapha

Signing the guest book

Tn Hj Razali led other guestS of honoUr on an official tour of the headquarters

Interview session with TV Al-Hijrah

Guest of honour enjoying the banquet

Al Falah nasheed group

HALUAN Caring Complex nasheed group

HALUAN headquarter located at Bandar Baru Bangi

Conference hall

HALUANITA operations office

Seminar room

President's office

Tn Hj Razali cutting the ribbon officiating HALUAN Malaysia's headquarter building