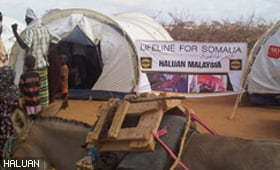 It's Hard to Say Goodbye
Dadaab, Kenya, Sept 12 – Well, here we are dressed once again the way we were when we first arrived here eight days ago. Only thing is the curious looks were gone as this is a parting parade for the three of us volunteers from HALUAN Malaysia's Lifeline for Somalia team no.1; Mission 1 Team leader Dr Baharudin Suri, Bro Mohd Akhir Ahmad and Bro. Yusman Nawazir.
---
Our host, the IHH or Insani Yardim Vakfi of Turkey was the exceptional chaperon and we have zillions to thank them for the experience they provided us. They remembered us from the ill-fated voyage of the MV Mavi Marmara over two years ago where Israeli forces brutally killed 9 civilians onboard the passenger ship that was sailing in international waters while bringing in civilian goods to Gaza. There were five HALUAN members onboard.
The Turkish volunteers, despite the language barrier, proved to be a very joyous, spirited but hard working lot. Hardly a day goes by without us joining in their activities such as medical examinations, food and water distribution, and community development and liaison projects. They have been in Dadaab two months prior to Ramadan and aims to stay put for an entire year, in hopes of reshaping the refugees and getting them on their feet.
Dr Baharudin was instrumental in bridging the gap with the initially apprehensive camp residents comprising doctors, nurses, media personnel, programme directors, and logistics personnel. Over teh O and tidbits, the camp commander, Bro. Omer Kasmen began to discover what HALUAN is and our past humanitarian foray across the globe.
"You do almost similar to us," he said in quaint English.
"Oh no, you do much, much more than us. HALUAN (pointing to chest) we are small and new," we replied. He thought it was flattery, and smiled. We knew it was the truth.
There were so much that we learnt from IHH; its organisational skills, budgeting, strategy, negotiations with the refugee leaders and the UN, logistics, security, protocols, and the works. The fact is all of them were working in unison and are respectful of each other, although they can be loud at times.
The camp is well-laid. We had bunkers to sleep in every weary night, the toilets, well they are pit latrines, are kept to the best ability. There is clean drinking water from 1.5 litre bottles, water for washing up and, hey, laundry services too by the neighbourhood Somalian mothers hired to do the washing, sweeping, dinner cooking, and cleaning of the camp.
Albeit a little overprepared upon instructions to join this mission, with camphor, mess tin cooker, sleeping bags and canned food in our backpacks, we were quick to share our foodstocks with them upon discovering that there is a central pantry. And that explains why our packs of rendang, kari daging and kari ikan by Brahim's disappeared in just over 24 hours.
All in all, we enjoyed our sojourn with IHH and its merry men. And as we lug our now lighter backpacks and make our way to the awaiting 4WD vehicle that would take us to Garissa and then to Nairobi 11 hours away, we can't help but recall the faces of innocence, despair, fatigue, illness, hope and bewilderment seen in the Somalian refugees in the countless camps we have visited.
Turkish or Malaysians – who cares. What matters most is for all peoples and nations to come together and save a civil society at its brink of collapse and extinction due to the extended drought, civil war, and famine. We all have a hand in this.
And to think that HALUAN could do all this on its own is but a fool's game. We need everyone onboard to save the gentle people called Somalians, whose only wish is to be able to return to their homeland once again and grow those grains.
With a very heavy heart, as the pickup rams up the dust, I turned my head perhaps for the last time towards the dusty main road where innocent children play on its sides and wave at us without fail.
Goodbye Dadaab. Goodbye Somalia. We HALUAN shall return for you.
We pray for you that you will donate to them generously as if they are your kins. Donate to BIMB account no 14-023-01-002571-8.
———————————-
Bro.Y bids farewell to all from Dadaab, Eastern Kenya. His team no. 1 leaves for Malaysia today.