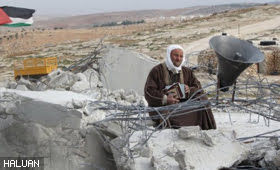 Israeli Army Demolishes Mosque In Al Mufaqarah, South Hebron Hills
AT-TUWANI, HEBRON, 4 Disember 2012 — On Tuesday 4 December at 6.30 am, two bulldozers together with a Border Police vehicle, four District Coordination Office (DCO) vehicles and five Israeli army vehicles arrived to the Palestinian village of al Mufaqarah, and demolished the mosque.
The mosque was already demolished by the Israeli army one year ago, on November 24, 2011. The inhabitants of the village had just finished to rebuild the mosque last October.
The village of al Mufaqarah belongs to Area C, under the military and administrative control of Israel. Every construction must be approved by the Israeli administration. Israel denies Palestinians the right to build on 70% of Area C, which comes out to about 44% of the West Bank, while within the remaining 30% a series of restrictions are applied which eliminate the possibility to obtain a permit.
While Palestinian villages of Area C are suffering an ongoing policy of demolitions, in the nearby outpost of Avigayil, illegal under the Israeli law itself, settlers are working on new buildings. These illegal constructions are tolerated by the army and police, despite repeated reports from international and Israeli activists.
According to the Fourth Geneva Convention, the Hague Regulations, the International Court of Justice, and several United Nations resolutions, all Israeli settlements and outposts in the Occupied Palestinian Territories are illegal. Most settlement outposts, including Havat Ma'on (Hill 833) and Avigayil, are considered illegal also under Israeli law.
Operation Dove has maintained an international presence in At-Tuwani in South Hebron Hills since 2004.
---
News International Solidarity Movement (ISM). ISM is an NGO that continues to be in At-Tuwani in the south Hebron since 2004.
Division of the West Bank.

The same mosque was demolished by the Zionist year ago.

2 of bulldozers, a Border Police vehicle, 4 District Coordination Office vehicles and five military vehicles accompanied the mosque demolition.

Masjid al Mufaqarah live into rubble.

The Palestinians need a permit Zionists to build the building on their own land.

In addition to denying the rights of the Palestinians, the Zionists also make the most of Area C as military training areas and routes.