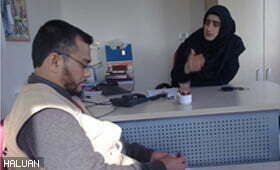 HALUAN volunteers in Istanbul for Turkey quake mission
ISTANBUL, 31 October, 2011 — HALUAN humanitarian volunteer team for the earthquake in eastern Turkey safely arrived in Istanbul today.
---
The reccee team led by Dr Syed Muhamad Haleem Syed Hasan would collaborate with a local NGO in Turkey to explore services in the disaster area in the province of Van and Ercis on the eastern side.

Dr Syed Muhamad Haleem and co-volunteer, Mohd Fazlon Abd Rahim, was greeted by the Vice President of Insani Yardim Vakfi (IHH), Huseyin Oruc, at his office in Fateh, Istanbul. IHH has deployed its volunteers to the disaster area since the quake where they assisted in the search and rescue (SAR) operations conducted by the authorities and NGOs.

As of 5.30pm local time yesterday, the Turkish authorities ceased all SAR activities to make way for the recovery phase. Volunteers from HALUAN would cooperate with IHH to treat the victims in this phase.
"HALUAN has yet to build expertise in SAR hence our arrival here is the right moment as the Turkish authorities has commenced the recovery phase. InshaAllah we will gather all the necessary facts to arrange the subsequent teams," Dr Syed Muhammad Haleem explained.
Up till 30th October, 5.34pm local time, 601 people have died, with another 4,152 victims injured. At least 8,321 families lost their homes.
The victims gravely require blankets and tents as well as food supplies and medical attention. The province located in the mountainous region also suffers from hail storms and snow, causing close to freezing temperatures.
Concerned citizens can join hands in this noble effort by donating to HALUAN's account at Bank Islam Malaysia Berhad number 14-023-01-002571-8.