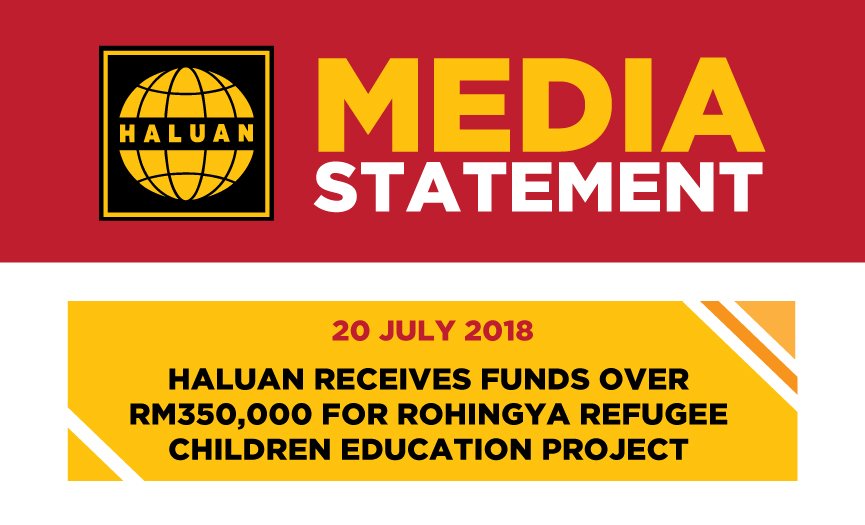 HALUAN Receives Funds Over RM350,000 For Rohingya Refugee Children Education Project
FOR IMMEDIATE RELEASE
20th JULY 2018
Pertubuhan Himpunan Lepasan Institusi Pendidikan Malaysia (HALUAN) and NAMA Foundation (NAMA) today inked a memorandum of cooperation involving humanitarian financial aid worth over RM350,000 to further enhance the educational system of children and families of Rohingyas based at the Rohingya Community Educare Center (RCEC).
RCEC is an educational project culminated through the cooperation of HALUAN and NAMA which began in October 2017. Its pilot project which involved 70 students was launched at Taman Prima Tropika City, Seri Kembangan, Selangor.
In a ceremony held at HALUAN's headquarters today, the CEO of NAMA, Dr. Saleh Mubarak Saleh Bazead, officially handed over funds worth RM245,750 to the Deputy Presiden of HALUAN, Prof. Emeritus Dato' Dr. Abu Azam Md Yassin represented by Vice President 4, Puan Alfiah Samingan.
A total of RM112,320 was received early this year to complete the aid for Phase Two development and activities at RCEC. This Phase Two involved the expansion of classrooms and various other social amenities that involved Rohingya refugees.
It is known that there are over 150,000 Rohingya refugees in Malaysia and over 30% of them are children who still require basic education. A fraction of these refugee children are fortunate to obtain education within traditional madrasah/religious schools or at schools under UNHCR and local NGOs, which are limited to learning religious and language lessons only.
The endeavour for a more holistic solution for these Rohingya refugees in Malaysia has prompted HALUAN to envision an education system that is more comprehensive and well-planned.
This proposed system should not be confined to just religious studies and the Burmese Language but should encompass lessons in Bahasa Malaysia, English, Arabic, Mathematics and Science, in order that they would not be left behind from the community at large.
They would also be exposed to the variety of good socio-culture found in this country so that they would be prepared to interact with Malaysians and to learn to respect the local customs.
It is hoped that the success spurned by the pilot project in Seri Kembangan, coupled with the support from various parties including the Malaysian Government, would pave the way for the formation of more RCEC in other locations as well. With projects like these, Rohingya refugees in Malaysia should collaborate in developing this nation and not create new problems in our society.
Contact : Muhammad Zakiran Mahmud
Tel : +6 019 939 0304
Web : www.haluan.org.my
Emel : zakiran.mahmud@haluan.org.my
###