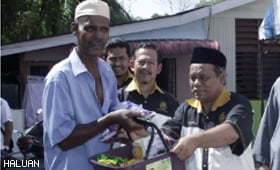 HALUAN Pulau Pinang Educates and Serves in Batu Uban
BATU UBAN, 7 Februari 2012 — Ten underprivileged poor individuals of the Masjid Jamek Batu Uban community received donations from HALUAN Malaysia Pulau Pinang branch in conjunction with its Community Service Programme (KHIDMAH) which was held for the second time here.
---
KHIDMAH is HALUAN Malaysia's community service held annually nationwide in collaboration with local community leaderships aimed at educating and enlightening the communities involved.
In his welcoming address at the KHIDMAH Pulau Pinang, chairman of the Masjid Batu Uban, Tn Hj Syeh Aziz Syeikh Mohamed expressed his gratitude for once again HALUAN was able to bring KHIDMAH to his community. He had high hopes of HALUAN. "It is my sincere wish that HALUAN can continue these programmes here continuously and not intermittently," he expressed. Chairman of HALUAN Pulau Pinang, Dr Ismail Jusoh, strongly seconded the wish of the community leader and proposed that religious teachers from amongst HALUAN members to intensify talks and other programmes in masjids throughout Pulau Pinang with the view of educating and serving the community.

The programme commenced with a talk by Ustaz Sharihan Shahidan director of Kolej Komuniti Bayan Baru in conjunction with the celebration of Prophet Muhammad's birthday or Maulidur Rasul. He urged the audience to reminisce Prophet Muhammad SAW especially since they have just celebrated the Maulidul Rasul. He expounded upon the life history of the Prophet and emphasised that Rasulullah SAW never for once forgot the fate of us, his ummah, until his dying breath. "Hence, it is only befitting that we as his followers remember and emulate him through his traditions or sunnah which he left for us in his trail," he urged.
The half-day programme began at 8.30am with various activities tailored for all ages and was well attended by some 600 locals. Amongst these include nasyeed peformances by the local children, Islamic calligraphy demonstration, a poster and multimedia campaign of the plight of Palestinians as well as visuals of HALUAN Malaysia's humanitarian works in Palestine and Somalia.
The young ones of the community excitedly competed in several competitions held for them such as calling the azan and hafazan or Quran recitation by memory which saw 33 participants. The colouring contest drew an even bigger crowd of 80.