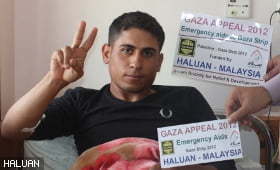 HALUAN Delivers Emergency Aid Post-Ceasefire
GAZA CITY, Nov 23, 2012 – The brutal attack by the zionist armed forces on the people of Gaza has now subsided following a ceasefire agreement sponsored by Egypt. Still, the sufferings of the people of Gaza does not end here.
Destruction of public infrastructure, homes, banks, and government offices are testimonies of the gravity of challenges and hardships awaiting them. Some reports say there are at least 10,000 people in Gaza who have to seek shelter in school buildings operated by the UNHCR. Thousands of houses were blasted into rubbles and dust due the despicable Zionist aggression.
Medical supplies are also reported to be running low, so regular treatment had to be postponed to give priority to those seriously injured. The World Health Organisation (WHO) estimates that as much as US$10 million is needed to supply medicines and equipment for Gazans for the next three months.
Contributions from Malaysians to the people of Gaza that were channeled through HALUAN Malaysia are being used to supply medical aid and other emergency needs. Today, one of the NGOs that collaborates with HALUAN in Gaza, Salam Society for Relief and Development began distributing cash and food assistance to the injured and still in the hospital. The hospitals visited are:
Kamal Edwan Hospital in northern Gaza,
Al Shifa Hospital in Gaza City,
Shohadaa al-Aqsa Hospital in central Gaza,
European Hospital in Khan Younis, and
Abu Yousef Al Najjar Hospital in Rafah.
According to its chairman, Yakoub Soliman, tomorrow the volunteers are scheduled to move into populated areas in Gaza to deliver aid in the form of basic needs including food.
The suffering of Gazans are expected to be more tragic as winter approaches. Apart from the lack of shelter and warm clothing, they also have blackouts because electricity cannot be generated due to fuel shortages.
But the people of Gaza are unusually enduring. Tomorrow, Saturday, is when school re-opens and children in Gaza will proceed with their daily lives as before. Parents would go out to work, in the farms and markets to support their families. For those who were injured, of course, the challenge is bigger and painful.
Restrictions imposed by the Zionist tyrants over six years ago seemed to have shuttered all opportunities and hope for the people of Gaza. Nevertheless, they have always persevered to continue living and not one to easily give up and plead for assistance. They will build all the houses and buildings razed by the Zionists and replant their damaged crops. It doesn't matter to them when they will reap the results or success, but to continue with life as they know best. If the house that was destroyed today was only two floors, they will rebuild a new home on the same site of a four-storey, indicating they will not be tired and confident that they will continue to thrive on this land of their own. That's the magnanimousity of the people of Gaza that has always traumatised the Zionists.
They will not budge from defending the endowed Muslim land. They will survive and continue to resist the occupation until the entire land of Palestine and Al-Aqsa Mosque are freed from the clutches of the Zionists.
Your donations are needed to supply medical needs, food, temporary shelter and winter clothing for them, and can be transmitted through:
Tabung Palestin HALUAN
BIMB: 14-023-01-003429-2
Maybank: 5644 9020 8528
---