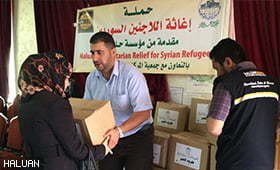 HALUAN Consistently Channeling Humanitarian Aid to Syria
JORDAN, 1 Sept 2014 – Since March 2012, approximately 3 years ago, Syria has been in a state of turmoil, one described as the worst humanitarian crisis of the century. Until now, 250,000 lives have fallen victim to a savage civil war while more than 6 million others became refugees within Syria and neighboring countries such as Lebanon, Jordan and Turkey.
UNHCR estimates that tens of billions of US dollar is needed to rebuild almost all major cities in Syria. In the name of humanity, HALUAN is playing an active role within the international NGO circle in consistently channeling humanitarian aid to the affected refugees in and outside of the war-stricken country.
Via its student wing (HALUANSiswa Jordan), HALUAN has again successfully delivered the donations of generous and concerned Malaysians to Syrian refugees based in Jordan refugee camps. The humanitarian aid was distributed in four consecutive days commencing August 31st and ended on September 3rd 2014.
This time around, the mission had its eye on channeling assistance on two major areas:
Financial Assistance
Basic Food Supply
The aid amounting to 7,500 JOD was distributed to 150 families in Hayy At-Tarkhish, Jordan. The aid was successfully channeled in collaboration with Maqar al-Omari, a Jordan based NGO which is responsible on the welfare of Syrian refugees in Jordan.
HALUAN also took a step ahead in financing the opening of a Bread Shop which is operated fully by Syrian refugees in Sakan Karomah, costing 1,220 JOD. Sakan Karomah is one of the Syrian refugee settlements which was relocated from Za'Atari Camp under the responsibility of Islamic Charity Centre Society (ICCS). The camp previously houses a medical clinic, a collaborative effort by HALUAN and Malacca Technical University Malaysia (UTeM). HALUAN believes that this micro-credit donation could spark a huge impact to local entrepreneurial activities with the refugees as its main players. The long-term sustainable economic plan was intended to help refugees to obtain a steady income to sustain the livelihood of their families.
HALUAN also distributed humanitarian assistance in the form of basic food supplies to Syrian refugee households staying in Jordan. These boxes contain in them sugar, cooking oil, wheat, rice and other life-sustaining food. Five mantiqah (areas) were identified and received the assistance ;
1) Mantiqah Marka
2) Mantiqah 'Abourah
3) Mantiqah Marj Al-Hamam
4) Mantiqah Al-Husun
5) Mantiqah Naeemah
Each mantiqah received 56 boxes of basic food supply for distribution to each family in need. A total of 280 boxes amounting to 6,300 JOD were distributed to 280 families all over Syrian refugee camps in Jordan in this mission.
HALUAN will relentlessly continue to channel humanitarian aid and assistance to those in need as its prime responsibility. Our deepest appreciation and gratitude to all generous donators who have helped bring a smile to thousands of Syrian refugees. They will bear witness to our refusal to be silent in betrayal. May Allah reward us accordingly.
Continue your support in HALUAN for Syria.
Your kind and generous donation can be channeled to:
"Tabung Kebajikan dan Kemanusiaan HALUAN"
Maybank Account
5622 6350 2611