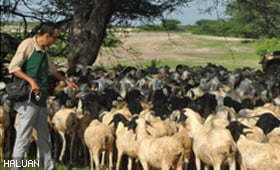 HALUAN and JPNJ volunteers off to Dadaab – Executes korban for Malaysians
Dadaab, Kenya, 5 Nov 2011 — The volunteer team of HALUAN and the Johor State Education Department (JPNJ) safely arrived in Dadaab town next to the Kenya-Somalia border to perform the korban (ritual slaughtering of livestocks) in celebration of the Eid Adha tomorrow.
---
They would represent over 1,800 Malaysian muslimin and muslimat in executing the korban there, where some 700,000 Somalian refugees live and seek international aid, fleeing from the drought and civil strive in their ravaged country.
Earlier, the team paid a courtesy visit to the office of the High Commission of Malaysia to Kenya in Nairobi. In the cordial visit, Second Secretary to the High Commissioner, Mr Zahari Ghazali, witnessed the handing over of payment for the purchase of livestocks for the korban to the representative of local partner NGO, the Northern Kenyan Empowerment Institute (NKEI). They also discussed the slaughtering process as well as on the distribution of the meats to the needy.
According to the team leader of this third mission, Dr Baharudin Suri, Malaysians have mandated the team to sacrifice a total of 1,538 heads of goats and 45 camels, including 170 goats that came through JPNJ. In order to facilitate the slaughtering and distribution process, the project would be performed in two main districts which are the refugee camp in Dadaab and also in the vicinity of Garissa town.
For the Dadaab centre, HALUAN would collaborate with the Turkish NGO called Insani Yardem Vakfi (IHH) and another Kenyan Muslim NGO. Meanwhile in the Garissa district, the collaboration would be with the NKEI.
Dr Baharudin felt that the presence of his team at the Dadaab refugee camp this time bears a heavier responsibility from the first mission which he spearheaded last September.
"My presence together with HALUAN volunteer, Hj Ibrahim Abd Rahman, and also volunteers of JPNJ, Hj Md Kassim Md Noah, Hj Ahmad Othman and Ustaz Yusma Yusuf, carries a heavy burden. Apart from resuming our humanitarian aid to the Somali refugees here for food, medicine and rebuilding their education, we also shoulder the trust given us by the participants of the korban from Malaysia where we shall be representing them," said Dr Baharudin. "InshaAllah with good rapport with these local NGOs, these tasks should be executed with diligence and satisfaction to all," he added.
They will remain in Dadaab until day two of the Tasyriq to complete the tasks at hand. May each and every korban this time be blessed and rewarded justly by Allah SWT.
InshaAllah your kind donations would carve a smile and new hopes for these Somalian refugees who have been waiting for assistance from their bretherens.
Keep your donations flowing for the Somali refugees into the bank account of HALUAN 14-023-01-002571-8 at Bank Islam Malaysia Berhad.
—————————
Dr Baharudin Suri writes from Dadaab, Eastern Kenya.