VIRTUAL RUN & RIDE FOR AL-AQSA
September 1, 2020

-

October 31, 2020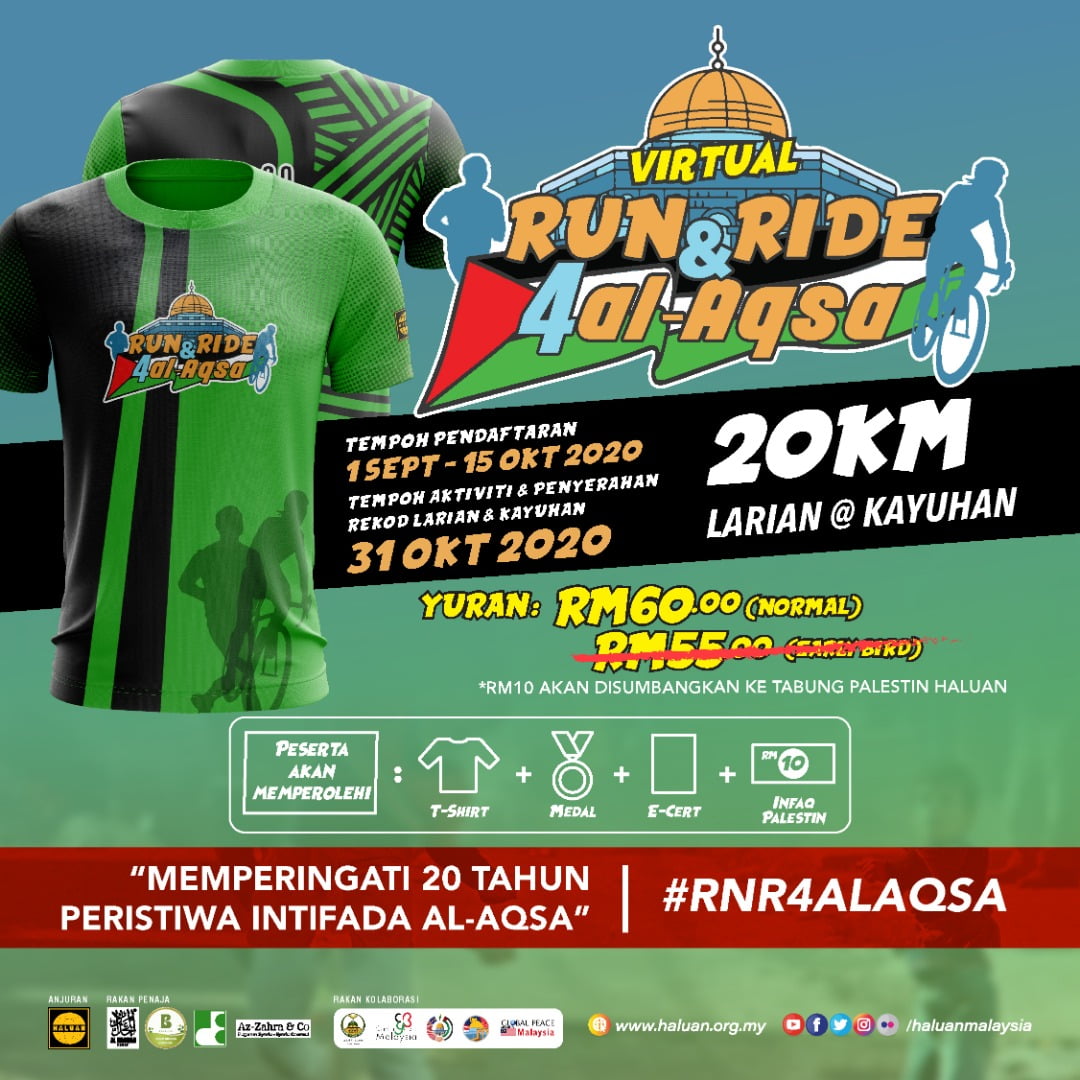 Congratulations Finishers!
Thank you to all the runners who participated on #RNR4ALAQSA. Keep it up!
---
 Program VIRTUAL RUN AND RIDE FOR AL-AQSA merupakan acara larian dan kayuhan amal yang dianjurkan oleh HALUAN bersama rakan kolaborasi Maahad Tahfiz Al Aqsa, Persatuan Cinta Gaza Malaysia (CGM), The Palestinian Cultural Organization Malaysia, Al-Quds Foundation Malaysia dan Global Peace Mission Malaysia untuk membangkitkan kesedaran masyarakat terhadap perjuangan membebaskan Masjidil Aqsa dan Tanah Palestin. Terima kasih kepada rakan penaja Al Haddad Marketing Sdn Bhd. danLife Success PLT
BIL
PERKARA
PENERANGAN
1.
Tempoh Pendaftaran

CLOSE

01 September – 15 Oktober 2020
2.
Tempoh Larian / Kayuhan

CLOSE

01 September – 31 Oktober
3.
Tarikh Akhir Penyerahan Rekod Larian / Kayuhan
31 Oktober 2020
4.
Lokasi Larian / Kayuhan
Bebas (boleh buat di mana-mana sahaja) indoor atau outdoor
5.
Penghantaran Kit Peserta (Baju & Medal)
Bermula 15 Oktober 2020
6.
Jarak Larian / Kayuhan
20 km (anda dibenarkan untuk mengabungkan beberapa larian/kayuhan untuk mencapai 20km tersebut, contohnya 5km per sesi sebanyak 4 kali).
7.
Kit Peserta
Tshirt, Medal, e-Certificate
8.
Ways to Track
Any running apps, pedometers, fitness devices, smartwatches and indoor treadmills can be used.

It should contain distance, timing and date of run.

9.
Submit Result

CLOSE

Please submit your results through this link [Submit Result] (you can submit multiple result via this link) or send your results and e-bib no. to bsrhaluan@gmail.com before 31 Oktober 2020.
---
---
PENDAFTARAN TELAH DITUTUP
---