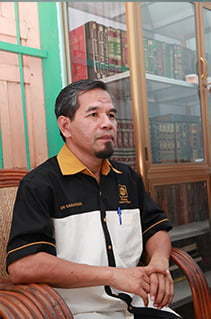 Ethnic Cleansing of t Rohingyas Worsens
BANGI, SELANGOR, Nov 29, 2012 – The suffering of the Rohingya Muslims seems never ending. It is tainted with recent murders and torture of these Muslims by the Rakhine Buddhist clerics and Myanmar authorities despite the celebration of AidilAdha 1433H where innocent Muslims continue to be brutally murdered and thousands of homes destroyed.
But until today, no concrete solution could be achieved either by the Myanmar Government or by international bodies. "While this report is written, hundreds of thousands of Rohingya Muslims who are still denied their citizenship by the Myanmar Government continue to live as refugees in neighbouring countries and in the Arakan region itself. To worsen matters, there are neighbouring countries that do not accept their seeking refuge from within their borders, not even for a moment, " said Dr Baharudin Suri, HALUAN Malaysia's Bureau Chief of Humanitarian Missions in sympathy for the refugees at the Bangladesh-Myanmar border.
Humanitarian issues are still at large in Myanmar. It has refused the OIC from opening an office in Arakan on grounds that it is offensive to Buddhism; the very same people who are reportedly guilty of killing innocent villagers and burning down Muslim homes, which ironically contradicts the very basic teachings of the Buddha himself who disallows the killing or acts of cruelty to even animals and plants. In addition, the Myanmar authorities and the local government still do not allow full access for International NGOs to reach the oppressed Rohingya Muslims. Compassionate humanitarian assistance intended for the Rohingya Muslim community 'must' be delivered through the Rakhine tribes who are themselves persecuting the Muslims.
HALUAN Malaysia, a registered Islamic NGO, will continue to focus on the Muslim Rohingya problem. While continuing to provide opportunities for the public to contribute to the Rohingya relief fund, HALUAN, through its Humanitarian Missions will continue to provide cooperation to humanitarian NGOs from Southeast Asia (SEAHUM) especially in enhancing the efficient delivery of assistance to the Rohingya Muslim communities. During October this year, a number of NGOs have entered the SEAHUM refugee camps in Arakan province and identified the problems and needs of the refugees.
Among the much-needed humanitarian assistance are shelters, toilets and clean water supply in the refugee camps. Thousands of Rohingya families are homeless, forced to live in crowded tethered old canvas tents without sanitation facilities and clean water. With the consent of the local government, the UNHCR and SEAHUM were mandated to build proper housing, toilets and water supply for the Rohingya refugee settlements.
Some units have been built through the contribution of a combination of SEAHUM NGOs, in which each 'shelter' unit can accommodate 10 families consisting of five to six people, complete with a living room and kitchen for every family. The estimated cost to provide 10 families a shelter made of wood, woven bamboo and zinc is about RM15,000. Each group will also be equipped with toilet facilities costing RM1,000 each and the supply of clean water through the construction of a tube-well costing about RM350 each.
Alhamdulillah, this provides an opportunity for members of HALUAN Malaysia and the public concerned with the suffering of their Muslim brothers in Rohingya to extend donations for them. Without better living conditions, sanitation and clean water, their lives in the refugee camps will be exposed to a variety of contagious diseases which are especially harmful to children.
SEAHUM is planning to urge ASEAN to exert pressure on the government of Myanmar to provide better access for humanitarian aid, including food and medicine to reach the Rohingyas and to urge the government to reinstate their rights and recognise their citizenship.
Any donations to assist the Rohingya refugees may be channeled through the 'Tabung Kebajikan dan Kemanusiaan HALUAN' through Maybank account number 5622 6350 2611.
---
Report by Dr Baharudin Suri, Bureau Chief of Humanitarian Missions, HALUAN Malaysia
Plan of shelters designed by UNCHR and local authorities. Costs RM15,000 per unit.

Shelters under construction.

Shelters provided for 10 families, each having separate living space and kitchen.

Rohingya refugees posing in front of shelters still under construction.

Plan of the sanitary facility (out-house) built outside the shelters, costing RM1000 each.

Tube wells those are ready in use.

Tube wells costing RM350.00 each

Dr Baharudin Suri, Bureau Chief of Humanitarian Missions, HALUAN Malaysia

Sanitary facilities (out-house).