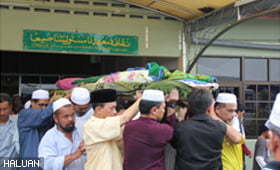 Deepest Condolences: Ustaz Dahlan Mohd Zain
8 September, Perlis – Dato' Kaya Bakti Dahlan @ Dahaman Mohd Zain, founder and Principle of Maahad at-Tarbiyah Islamiyah (MATRI) passed away today.
---
The deceased, more commonly known as Ustaz Dahlan, passed away at 9:55 am at his home in Kg Kerisik shortly after being brought home from Cardiac Care Unit (CCU) Hospital Tengku Fauziah. He had been in a coma for 41 days in the CCU.
While waiting for the deceased body to arrive, before Asar, Al-fadhil Ustaz Omar Haji Salleh, Vice Principle MATRI and also Vice-Chairman of MATRI's Board of Directors of took the chance to thank everyone who had come from far and near to give their last respects to Ustaz Dahlan.
The funeral prayer (Solat jenazah) is done in MATRI's surau after Asar, and the deceased is buried in Tanah Perkuburan Islam Kampung Tunjung, not far from MATRI.
Almarhum Ustaz Dahlan made huge contributions, especially in the field of education and the progress of dakwah in Malaysia. He contributed ideas, efforts and his whole life in processing individuals to become human capitals, according to Islam. Apart from that, the deceased encouraged and trained members of various NGOs who are active in education, dakwah and community service including organization such as HALUAN. His efforts and contributions in more than four decades have many positive impacts on the development of education and the spread of Islamic understanding in Malaysia. May all his efforts be counted as good deeds by Allah SWT.
The deceased left a widow and four sons and daughters, along with many students all over the country. HALUAN Malaysia sends deepest condolences to the family and students of Almarhum Ustaz Dahlan.