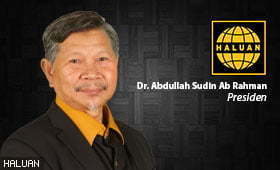 Condolences to Victims of Plane Tragedy Malaysia Airlines MH370
BANDAR BARU BANGI, March 9 2014 – The tragedy of Malaysia Airlines (MAS) flight MH370 which allegedly disappeared from the control tower radar screen about an hour after departing from Kuala Lumpur International Airport (KLIA) to Beijing, China on March 8, has shaken the people of Malaysia and elsewhere. Speculation and rumours are rive of the fate even more so in the social media.
What's more, the aircraft belonging to Malaysia Airlines which was transporting some 239 passengers from 14 countries, including 38 Malaysians with 12 crew and two infants pose a burning question to us all regarding the safety and fate of the passengers and crew involved yet to be known officially as to date.
HALUAN expresses our utmost sympathy and condolences to all the victims and families of those involved in this tragedy. It is a misfortune and test from Allah to us all as citizens of Malaysia and especially to the victims and families of the victims. In the face of this tragedy, let us "pray for the best, be prepared for the worst".
Let us raise our hands in prayer to Allah SWT for the welfare and safety of all passengers involved and look forward to the wisdom experienced by all those affected by it.
As Malaysians who are known for their undivided concern, love, and benovalence in the spirit of humanitarian service, let us all be equally united in the face of this calamity and give moral support to the victims' families and kins to continue to persevere and be patient while waiting for the latest developments from time to time.
Let us invoke prayers and supplications in total humility and servitude to Allah SWT in that He may bestow strength, patience and perseverance to the entire families involved in the MH370 tragedy who are in a state of shock, sadness and grief.
In this case, we must not feel justified to point fingers and blame certain parties involved, directly nor indirectly, but we must instead stir compassion to provide help, assistance and contribution in evidence of the spirit of humanity.
We aspire that there will be wisdom and goodness emanating from this tribulation that Allah is trying to teach and instruct us about. In that this tragedy will remind us of our place as His slaves as ordained by Him in the Holy Quran that says:
"And We will surely test you with something of fear, hunger, loss of wealth, lives and fruits (of your labour). And convey good news to those who are patient. Those who, when afflicted with calamity, they say "We belong to Allah and to Him we shall return". They are those given forgiveness and Mercy from their Lord, they are the ones that receive guidance."
(Surah Al – Baqarah 2 : 155-157)
The Wise Almighty and Most Powerful Allah knows all that He rules. He alone shall know the wisdom behind everything that happens on this earth.
Berakhlak, Mendidik, Berbakti
Dr Abdullah Sudin Ab Rahman
President of HALUAN