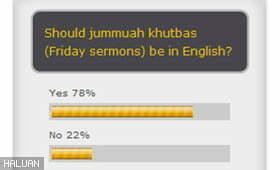 Bahasa Inggeris, Bahasa Inggeris, Bahasa Inggeris?
Isu penggunaan bahasa Inggeris bukan sahaja berlaku di negara kita, bahkan juga kepada masyarakat Islam di Scotland.
Baru-baru ini di lontarkan cadangan supaya khutbah jumaat dibaca di dalam bahasa Ingeris untuk memastikan keberkesanan penyampaian maklumat kepada generasi muda keturunan Pakistan yang tidak dapat bertutur dan memahami bahasa Urdu, juga kepada saudara baru berbangsa Scot dan sebagai usaha dakwah kepada bukan Islam.
Keputusan pengundian secara maya mendapati 78% pengundi menyokong berbanding 22%. Keputusan ini memang di jangkakan kerana kebanyakan pengundi adalah golongan muda yang celik IT dan sentiasa mengikuti perkembangan semasa berbanding golongan tua generasi pertama.
Walau bagaimana pun suara-suara bangkangan dari golongan tua masih dapat di dengar terutama di masjid-masjid yang sememangnya dikuasai oleh mereka.
Untuk mendalami intipati isu ini, disertakan sebahagian perbahasan yang di petik dari blog Scottish Islamic Foundation http://scottishislamic.wordpress.com/ , yang juga boleh di capai melalui http://www.scottishislamic.org/index.php.
Should jummuah khutbas be in English?
June 2, 2009 by scottishislamic
Shaykh Amer Jamil will recommend this week that the talk preceding the Friday sermon needs to be relevant to the issues facing youth and delivered in English (since the youth are the majority of the community and their needs should take priority).
But some think this can go further so that the khutba itself is delivered in English. What do you think?
on June 3, 2009 at 9:45 am azrah ahmed
salaams. the khutba i feel for todays generation shouild most definitely be in english. but the problem is that our older generations cannot understand english very well. maybe it could be done in such a way that the khutba be given half in english and half in urdu.
on June 3, 2009 at 2:16 pm Shazia
Salaam, I'm not the best in knowledge but I think historically there is a religious reason to why the khutba has to be in arabic.. its actually deemed a part of prayer where you are not meant to talk etc, and so there is a resultant shortened prayer ie 2 rakahs rather than 4 rakahs.. correct me if I am wrong, knowing me got the wrong end of the stick.
If this is the case then the sermon itself is the only place where we can have english. For many people who work or attend educatational establishments waiting for the urdu to be over before the english one starts can be time consuming as people have work to get back to..
Being in the uk surely most muslims should be expected to understand english by now?
If not then guess they need to choose the mosque which has the sermon in the language they prefer. Just a thought Laughing
on June 3, 2009 at 5:23 pm Haseeb
Salaam Guys,
I definitely dont think the Khutba should be in english. I feel the sermon before the khutba, should be appropriate to the audience. A lot of young people are at work and cant make it to the sermon, we barely make it in for the actual khutba. Its actually the older generation that are present during this time. I think its really important that we dont alienate our older generation or say that everything that they did was wrong. Wassalaam
on June 3, 2009 at 2:24 pm Sohaib
I have personally delivered khutbahs in English (along with Arabic quotations of Qur'an and hadiths etc.), and found that it was an effective means of reaching out to the youth and other people in the society who don't understand Arabic. If we have any chance of having one shared language here in Scotland, it will be English, despite the importance of teaching Arabic. I find it sad that there are sometimes Imams delivering Arabic khutbahs while even they are struggling to understand what they are saying!
But it should be remarked that this is not just a matter of voting, but it's a fiqh issue that should be considered according to the texts and rulings of scholars. We know the strongly argued position of Deobandi scholars such as Mufti Taqi Usmani, while there are alternative views including that of Imam Abu Hanifa himself. What we need of our scholars in this country is to consider those opinions (as the European Council of Fatwa has done, see link above) and give advice that is within the bounds of Islamic law and according to its general aims, even if that is contrary to what many people are used to culturally.
Saya tidak berhasrat menjadi hakim atau memihak kepada mana-mana dalam perbahasan ini. Cuma dalam apa-apa perbahasan pun perlu ada wacana yang dapat melibatkan semua pihak bersama secara fizikal. Perbincangan dan cadangan apa-apa pun mustahil untuk di realisasikan sekiranya tiada perbincangan yang tersusun. Dan yang penting juga, titik-titik persamaan hendaklah dari awal-awal lagi di persetujui dan dijadikan asas persefahaman perbincangan dalam usaha memperbaiki sistem yang sedia ada atau dalam usaha mencapai matlamat yang di kehendaki.
Isu bahasa di negara kita misalnya perlu kepada perbahasan dan perbincangan yang mantap dengan mengambil kira beberapa faktor. Yang pasti, apa-apa keputusan yang di ambil perlulah mengambilkira memelihara atau perkataan yang lebih kuat lagi mendaulatkan bahasa Melayu dan terjaga kepentingan anak-anak kita di luar bandar. Dan dalam masa yang sama kepentingan bahasa Inggeris sebagai salah satu bahasa asing yang hendak tak hendak terpaksa di akui sebagai bahasa mendalami ilmu-ilmu duniawi, bahasa untuk jaringan perniagaan antarabangsa, dan perhubungan diplomasi antarabangsa perlu juga di mantapkan. Kalau tidak semua memahami, mungkin kepada sebahagian generasi pelapis negara. Dalam sirah Rasulullah S.A.W., baginda sendiri pernah mengarahkan Zayd ibn Thabit mempelajari bahasa Hebrew supaya urusan-urusan rasmi dengan bangsa Yahudi dapat berjalan lancar. Begitu juga dengan hadis-hadis yang menyuruh umat Islam mempelajari bahasa asing supaya tidak tertipu dan juga sebagai usaha dakwah. Wassalam.
Pakteh untuk Haluan
Glasgow.
Rujukan
"Companions of the Prophet," AbdulWahid Hamid, Muslim Education & Literary Services. www.melspublications.com.
Scottish Islamic Foundation
http://scottishislamic.wordpress.com/
http://www.scottishislamic.org/index.php.