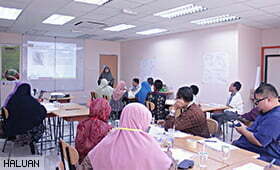 Active Learning – The Future of Education
BANDAR BARU BANGI, 20 Mar, 2016 – When the term "Active Learning" comes to mind, most of us will quickly relate it to the word 'engagement', 'discussion' or we would describe what it isn't: passive learning.
Those are fine places to begin with, but in need of deeper exploration, experts on active learning methods from Universiti Teknologi Malaysia; Assoc. Prof. Dr. Khairiyah Mohd Yusof from the field of Engineering Education and Dr. Syed Ahmad Helmi Syed Hassan from the field of Mechanical Engineering facilitated a recent workshop. The workshop was one important step to foster a more conducive learning environment for students so that they would have an active role in the learning process.
Together, approximately 20 educators from all around Peninsular Malaysia attended the first series of Active Learning Workshop with a desire to seek knowledge, for learning is a never ending process. The workshop, hosted by Kolej Teknologi Darulnaim Kuala Lumpur in partnership with Akademi Penyelidikan HALUAN came to a huge success with the help and cooperation of our actively enthusiastic attendees and the speakers.
On March 18, , the chief executive of Kolej Teknologi Darulnaim, also holding the position as advisor for the workshop, Prof. Madya Nordin Endut delivered a speech to welcome the honorable speakers as well as the participants. His hope was that everyone reaches the objective of the workshop and most importantly to cherish the opportunity.
The workshop focused on topics such as making group discussions productive, student assessment beyond grading, and engaging students through different modes of active learning. The main highlights, voted to be the best by participants were the 20 techniques of informal cooperative learning that could be implemented during teaching, the How People Learn (HPL) Framework and Constructive Alignment.
Participants realised that in active learning, teachers don't teach students, students learn by themselves. "We help them to learn and we guide them. If you're going to learn, you'll have to work to get there," said Dr. Khairiyah during the workshop.
The workshop came to a close with a speech delivered by the chairman of Akademi Penyelidikan HALUAN, Prof Ismail Ahmad. He applauded Dr. Khairiyah and Dr. Syed Ahmad Helmi for conducting such an educative event. He then concluded by summarising the whole objective of the workshop and mentioned that he wished he had the opportunity to be exposed to such knowledge way back during his younger years.
Participants also gave positive feedback, saying that they enjoyed every second of the workshop and they look forward to join the next series of it. This experience is actually a brand new beginning for educators to start implementing the methods learnt, leading students to a more positive student learning experience than before.
---
Report by Yusraa Azman, Secretary for Active Learning Workshop (First Series)