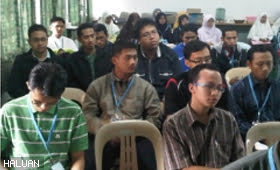 3M Satisfies HS2
Bukit Naga, Shah Alam, 2 Oct – More than 70 medical and allied health students from various institutions in Malaysia gathered here to attend a program that is Motivasi Minda Medik (Motivational Program on Medicine) or 3M.
---
This one day program organized by Haluansiswa Health Science (HS2) in collaboration with Kelab Kesihatan HALUAN (KKH) (HALUAN Health Club) was held at Kompleks Haluan Penyayang (KHP), Kampung Bukit Naga, Shah Alam Selangor.
The morning session started off with the welcoming remarks by the program manager, Safiyah binti Ahmad Yusoff (pic) then followed by an energetic motivational talk by Dr Azizan Ahmad, a renowned motivator who is also a lecturer in the Department of Chemistry, Universiti Kebangsaan Malaysia (UKM). The topic of his talk is "The right awareness will give birth to transcendental students" discusses the truth of why humans are created in this world.
He said: "You are all the chosen ones selected by Allah to benefit Islam, to seek Allah's blessing."
The program was continued by the second session which was a kulliyah by a graduate from University of Madinah, Ustaz Hussein Azmi b. Abdullah Thaidi (pic) talking about the fiqhs related to medicine. Concerning the humanitarian rights based on Shariah legislative system, he explains the fundamental knowledge in related fields of medicine to the participants.
After that was a special slot by a HALUAN activist, Mr. Yusman Nawazir regarding the mission of Lifeline for Somalia. Mr. Yusman exposed the current state of our brothers and sisters in Somalia who are struggling badly for life.
The final slot regarding the fiqh of medicine namely the practical training was lead by the volunteers from KKH sharing their experiences of techniques and skills that can be applied in today's challenging events.
The closing event was a speech full of hope by the President of KKH, Dr Wan Muhaizan Wan Mustapha. She is very satisfied with the utmost effort of the organizer and dedications of the participants in making this program a success. Her words of wisdom "May every deed we do is centered only for the sake of Allah" remains in the hearts of the audiences.
A final speech by the President of Haluansiswa Health Sciences (HS2), Mohd Imran bin Abdul Rahman concludes the program.
"We must not only be what we say, but also become obedient slaves of Allah," says Mohd Imran.
3M is an annual program. According to Safiyah, this program for next year will be announced later.