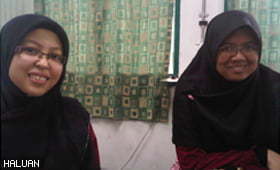 3M is The Best!
Shah Alam, Oct 3, 2011 – Best! That was the general consensus of participants at the Medic Minds Motivation (3M) program which ended yesterday.
---
The one-day program was attended by over 80 students from Malaysia's tertiary education institutions from courses such as medicine, dentistry and paramedicine.
Amongst those participating for the first time in 3M organised by the HALUAN Health Club (KKH) and HALUANSiswa Health Sciences (HS2) were eight students from Universiti Teknologi MARA's Puncak Alam campus where paramedic courses are taught.
According to Shafiqa Aminudin, a third year degree student in physiotherapy, it was her first time attending such a program. "The inputs were good. I've read about fiqh in medicine before but this is the first time I could participate in a workshop with friends and senior doctors. I've always wanted to attend a program such as this," she told the HALUAN reporter.
Her classmate, Nur Hamizah Saidin agreed that 3M is very beneficial for the field of physiotheraphy. Prior to this, she said she was a little apprehensive in the methodology of treating patients but since emerging from the workshop, she has gained new insights for treatment. "The essence of Islamic concepts were never discussed. I am indebted having attended this program because I can now see the role of Islam in my career path".
For Shilla Atika Jamil, a second year student in medical lab technology, 3M was able to open her mind since attending the program. The interactivity with other students from courses related to medicine and paramedicine has greatly enhanced and motivated her. Programs such as this should be held more often, she said.
President of Emergency and Humanitarian Mission Society (FORCE) UiTM, Faizal Ishak expressed hopes that more members of the society would participate in 3M in future so as to expand their horizons while pursuing their individual courses in campus. He is grateful because KKH has assisted FORCE since a year ago in developing integrated training modules and in training its members now in excess of 500 students.
The one-day 3M program was attended by more than 80 students from public and private institutions of higher learning. They comprised students pursuing medicine, dentistry, nursing, physiotherapy, medical imaging, environmental health, medical lab technology, pharmacy, occupational therapy and such.